World news story
UK hands over aviation security equipment to Kenya Airports Authority
UK continues to support Kenyan Government efforts to counter terrorism at airports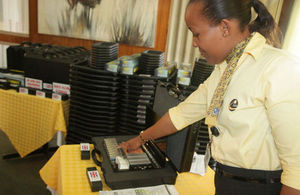 The British High Commissioner to Kenya, Dr. Christian Turner, formally handed over aviation security equipment to the Government of Kenya on Thursday 18 July 2013 at the Jomo Kenyatta International airport (JKIA).
The equipment included a number of test pieces for x-ray machines and 'walk through metal detectors'; x-ray screening trays; hand held metal detectors; and aviation security guidance material and training aids. This will assist in broadening aviation security detection capability at airports across Kenya.
In addition to this equipment, the UK Government has and continues to offer various levels of aviation security training course to the Kenya Airports Authority (KAA) and the Anti-Terrorist Police Unit (ATPU) on: explosive trace detection machines; x-ray screening; physical search of baggage and people; aviation security supervisor/managers skills; and on the job 'mentoring' training at JKIA and Mombasa International Airport.
The High Commissioner also presented certificates to KAA staff, including the General Manager for Safety & Security (Mr Eric Kiraithe) who successfully participated in a UK 'Aviation Security Seminar' in London between 23-25 April 2013.
Terrorism is a global threat and the UK Government is keen to continue its close working relationship with Kenya in order to help improve security in East Africa. Most recently Britain's support has included eight Explosive Trace Detection machines, a police boat in Lamu, and vehicles for the ATPU and the Rural Border Patrol Unit of the Administration Police.
Photos on Flickr page
Published 24 July 2013
Last updated 24 July 2013
+ show all updates
Added additional sentence
Added an image
removed the image
First published.