UK hails new aid partnership with emerging powers
Britain welcomed a new agreement with China and others to improve the impact of aid at this week's aid forum in Korea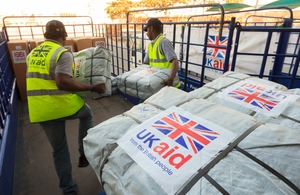 International Development Secretary Andrew Mitchell has welcomed a historic agreement with countries including China to improve aid effectiveness.
Andrew Mitchell was in Beijing on Tuesday for discussions with the Chinese government, as part of ongoing work to cement a new development partnership between the two countries.
Hours later China joined other emerging economies to confirm they would endorse the new deal at the Busan aid talks in Korea. This paves the way for a new approach to aid effectiveness which recognises the important role played by emerging economies, alongside traditional donors and others.
Speaking after helping broker the deal, Andrew Mitchell said:
It just wouldn't have made sense for a global deal on aid effectiveness to go ahead without the involvement of China and other major players in international development.

Not only has China got valuable experience to share - cutting the proportion of its people living below the poverty line from 84% to 16% in just 25 years - but it is also a major investor in Africa and the developing world. Their continued presence at the table, alongside other emerging economies, ensures this deal reflects the reality of today's development landscape.

What matters now is translating words into reality on the ground. It is vital that everyone involved in this deal takes concrete steps to move this new partnership forward.
The UK's priorities for the talks - all of which are reflected in the agreement - included:
Aid based on results: Britain has led the way on getting donors and poor countries to agree at Busan to a new 'results frameworks' to ensure aid is delivering measurable results - for example the UK will help to get 9 million children from developing countries into primary education each year.
Greater transparency:  Donors must be more transparent, so that poor countries can plan; donors can coordinate better and learn from each other; and citizens can hold governments to account for their decisions and their actions.
Fragile states: Britain helped lead negotiations for a 'New Deal' for fragile and conflict-affected countries. Because of this New Deal, donors and fragile countries at Busan will sign up to better ways of working, tailored to the challenges of working in these countries.
Cooperation with new aid donors: Emerging powers like China, Mexico, Brazil and India are becoming increasingly influential providers of support and assistance to poorer countries. Richer nations must collaborate with emerging powers to share experience.
Published 1 December 2011