Press release
UK government will match public donations to Ebola appeal
The first £5 million of public donations to the Disasters Emergency Committee appeal on the Ebola outbreak will be matched by UK aid.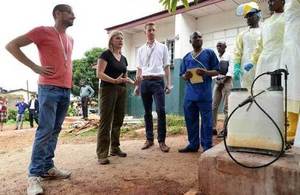 The British government will activate the UK Aid Match scheme for the Disasters Emergency Committee (DEC) appeal on the Ebola outbreak, International Development Secretary Justine Greening announced today.
The first £5 million of donations from members of the public to this DEC appeal will be aid matched, meaning that every £1 donated is matched by UK aid.
Justine Greening said:
The Ebola outbreak in West Africa is unprecedented and requires a huge global response. During my recent visit to Sierra Leone I saw first hand the difference UK government support is already making on the ground - from building treatment centres and training staff, to working with communities to make burials safer.

The British people have always shown immense generosity in situations like these, with hundreds of our health workers having already volunteered their services. Now, by matching pound-for-pound the first £5 million of public donations to the DEC appeal, the UK government will help that generosity go twice as far.
The UK has committed £205 million to date supporting the global effort to contain, control and defeat the disease in Sierra Leone. This includes:
Supporting 700 treatment beds to help up to 8,800 patients over 6 months;
Shoring up the country's stretched public health services to help contain the disease. This includes vital supplies such as chlorine and protective clothing for thousands of health workers;
Providing 200 Community Care Centres where people who suspect they might be suffering from the disease can seek diagnosis and appropriate care;
Enabling charities on the ground to work with people to develop new practices which will allow them to honour their friends and relatives, while ensuring bodies are safely buried;
Training more than 240 health workers a week with the World Health Organisation;
Doubling the number of burial teams to 21 in Freetown – and providing 20 more across the country; and
Supporting a command and control centre to manage burials and Ebola patients across Freetown and the Western area.
In addition, RFA Argus and 3 Merlin helicopters have been deployed to deliver transportation and logistical support for medical teams and aid experts working in the country. In total, around 800 military personnel will be deployed to help with the establishment of Ebola treatment centres and an Ebola training academy.
General media queries
Follow the DFID Media office on Twitter - @DFID_Press
Published 29 October 2014