UK Government welcomes appointment of Egypt's new leadership
The UK Government has written to Egypt's new leadership congratulating them on their appointments and setting out its commitment to working with them as they address the challenges ahead.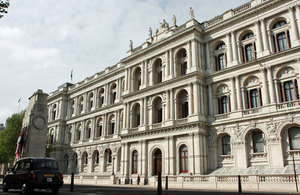 An FCO spokesperson said:
"In a sign of the ongoing commitment to furthering bilateral relations with Egypt, the Prime Minister, David Cameron, has written to Egypt's new Prime Minister, Hisham Qandil, to offer warm congratulations on his appointment. The Prime Minister underlined his commitment to working with Egypt's new leadership, and offered the UK's support to Egypt's transition process and economic development. The British Government also welcomed the appointment of Egypt's new Government on 2 August. In letters to their counterparts the Foreign Secretary and Development Secretary congratulated the Egyptian people on this important milestone in the country's transition to civilian, democratic rule.
"The Prime Minister urged Egypt to pursue the establishment of democratic institutions to fulfil the Egyptian people's aspirations for reform and accountability and make progress towards a new, broadly-agreed Constitution which protects the rights of all Egyptians. In his letter, the Foreign Secretary made clear that the UK has a shared interest in Egypt's stability and prosperity. He called on Foreign Minister, Mohammed Kamel Amr, to help the Egyptian Government take forward economic reforms as soon as possible in order to fulfil the country's economic potential and boost the confidence of foreign investors. He also emphasised his determination to strengthen the UK's cooperation with Egypt on a number of international issues, including Syria, the Israeli-Palestinian conflict, and peace-making in Africa, and to promote peace and security in the region.
"Earlier this week Minister for the Middle East and North Africa, Alistair Burt, offered his condolences to the Egyptian people and to the families of those who were killed in the recent attacks at the Rafah border in the Sinai."
Published 10 August 2012