News story
UK Government reaches agreement on the sale of its entire interest in Eurostar for £757.1m
UK government has reached agreement for the sale of its entire interest in Eurostar International Limited ("Eurostar") for £757.1m.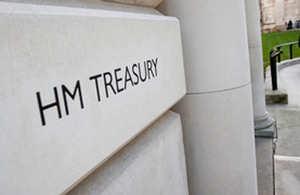 The Chancellor, George Osborne, and the Chief Secretary, Danny Alexander announced today that the UK government has reached agreement for the sale of its entire interest in Eurostar International Limited ("Eurostar") for £757.1m.
A consortium comprising Caisse de dépôt et placement du Québec (CDPQ) and Hermes Infrastructure has agreed to acquire government's 40% stake in Eurostar for £585.1m. The sum exceeds expectations for the 40% stake when the government announced that it was inviting offers for its stake in October 2014. Eurostar has, on closing of the sale of the government stake, agreed to redeem HMG's preference share, providing a further £172m for the exchequer.
The Autumn Statement 2013 and National Infrastructure Plan 2013 set out the government's ambition to achieve £20 billion from corporate and financial asset sales by 2020. Having identified the government's stake in Eurostar as a possible candidate for sale, and following a competitive sale process, the government has reached agreement to sell its interest.
government's key objective in the transaction was to maximise value for money for the UK taxpayer, and this has been achieved.

the price that has been achieved is significantly ahead of expectations, reflecting the high quality nature of the asset.

subject to receiving the necessary regulatory approvals, closing is expected to take place during the second quarter of 2015
Eurostar is Europe's leading international high speed rail operator. Since services began in 1994, it has carried over 150 million passengers, with over 10 million in 2014 alone, whilst sustaining traffic growth every year for the last decade.
Following the incorporation of Eurostar into its current form in 2010, it has continued to be highly successful; attracting record passenger numbers, launching new destinations and now about to introduce a new fleet of state of the art trains.
Founded 50 years ago, CDPQ is a long-term institutional investor that manages funds primarily for 33 public and para-public pension and insurance plans. As at December 31, 2014, it held C$226 billion in net assets. As one of Canada's leading institutional fund managers, CDPQ invests globally in major financial markets, private equity and real estate. It also brings a strong track record of global infrastructure investment, with an investment portfolio valued at over C$10 billion. CDPQ holds the highest credit ratings from DBRS, Standard & Poor's and Moody's.
Hermes Infrastructure, part of Hermes Investment Management, is a UK-based fund managing approximately £3 billion on behalf of clients including the Hermes GPE Infrastructure Fund ("HIF"). Hermes Infrastructure is focused on delivering enhanced risk-adjusted returns for investors through a range of investment strategies and a diversified infrastructure portfolio.
SNCF and SNCB – the other shareholders in Eurostar – have the option (the "Pre-emption Right") to acquire HMG's 40% stake for a 15% premium to the agreed price of £585.1m. Closing of the sale to the CDPQ and Hermes Infrastructure consortium is conditional on SNCF and SNCB not exercising the Pre-emption Right. The transaction is also conditional on regulatory approval.
Chancellor of the Exchequer, George Osborne said:
It's great that we have reached an agreement to sell the UK's shareholding in Eurostar that delivers a fantastic deal for UK taxpayers that exceeds expectations.

Investing in the best quality infrastructure for Britain, getting the best value for money for the taxpayer and tackling our country's debts are key parts of our long term economic plan, and in today's agreement, we are delivering on all three.
Chief Secretary to the Treasury, Danny Alexander said:
It's the government's job to create the right economic conditions to allow businesses to flourish and create the wealth we all need to support our standard of living and the public services we all depend on. But there's no virtue in the government owning assets it doesn't need to. That's why, as part of the National Infrastructure Plan, I announced an increased target to sell commercial and financial assets worth £20 billion between 2014 and 2020. This included our shareholding in Eurostar, a truly market-leading business. And this sale, at a much higher price than market expectations, is a model example of how this government is securing great value for money for tax payers as it helps rebalance and rewire our economy.
Macky Tall, Senior Vice-President, Private Equity and Infrastructure, CDPQ, said:
Today we are investing in one of Europe's most efficient intercity transport systems. Alongside leading industry players, we are becoming partners of a highly strategic asset that will generate stable and predictable returns for our clients. This major investment is another opportunity for us to further build on our expertise in the transport sector, while broadening our footprint in the global marketplace. In terms of reliability and satisfaction, Eurostar is state-of-the-art and among the most enviable worldwide. It serves as a model for operational efficiency and we intend to be a partner in its growth for many years to come.
Peter Hofbauer, Head of Hermes Infrastructure, said:
Eurostar is a high quality asset providing a direct link between the UK and Europe that has historically offered attractive investment characteristics, including long-term stable and predictable cash flows. We look forward to creating a long-term partnership with SNCF and SNCB and other key stakeholders in relation to this important investment.
Published 4 March 2015