Press release
UK Government hosts inaugural Wales Export Business Summit
Alun Cairns: 'There has never been a better time to export overseas'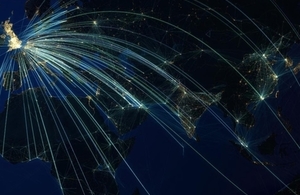 Welsh business seeking to explore global exporting opportunities will be able to capitalise on the advice and guidance from entrepreneurs, international business owners and export champions at the Wales Export Business Summit in Cardiff today (6 March).
Over 80 companies from across Wales are expected to attend the event at the capital's City Hall, hosted by Secretary of State for Wales Alun Cairns and International Trade Minister, Mark Garnier.
Wales is already an exporting nation. In 2015, 4,000 companies took their first forays into the global market, at a value of £11.6 billion. The Wales Export Business Summit will aim to encourage more businesses to follow suit and experience the benefits that a global customer base can bring.
In 2015/16 Wales benefited from 97 new Foreign Direct Investment projects creating 5,443 jobs. Across the UK, exports contribute over £511 billion to GDP, but only 11% of registered British businesses currently export beyond our borders, missing out on the limitless opportunities for growth abroad.
Secretary of State for Wales Alun Cairns said:
Every day in every country around the world, there are business opportunities for Welsh companies' products and services.

But we know that striking out into new and unfamiliar markets can sometimes look daunting – particularly now as the UK prepares to leave the EU.

We want to demonstrate that there has never been a better time for Welsh companies to export overseas. We now have the opportunity to shape our own ambitious trade and investment opportunities in Europe and beyond, and put Wales and Britain firmly at the forefront of global trade and investment.
In Wales alone, the Department for International Trade has helped more than 600 companies this year with export service deliveries – including support from their overseas staff, help attending international trade shows and crucial market research.
International Trade Minister, Mark Garnier said:
From automotive to aerospace, there is a world of business opportunities out there for Welsh products and services, yet many businesses don't know where to start or are unaware of the support available.

This summit will help connect firms starting out on their exporting journey with the expertise they need. We want to help more businesses in Wales and across the UK build their brand abroad as we continue to increase UK exports and encourage inward investment.
Businesses in attendance at the Wales Business Export Summit will also have the opportunity to hear from companies already making their mark in global territories.
Alun Cairns added:
I hope that those in attendance today are inspired to become the next generation of Welsh exporters. The UK Government is standing ready to support, and will be behind them every step of the way.
Wales Business Export Summit brochure
Notes to Editors
UK Government and the private sector have a range of services available to help new and existing exporters. These have come together in a single website great.gov.uk.

Great.gov.uk was launched in November 2016 as a trade hub for businesses to help unlock millions of pounds worth of potential overseas business, give practical advice, and signpost support to help them win lucrative contracts. As part of our campaign to help more UK businesses to export we've seen:

Over 1 million visits to our exporting websites with 632,000 unique visitors and 3.3 million page views
Over 72,000 applications to export opportunities

Over 30,000 downloads of the essential guide to exporting

By registering, businesses will become part of a brand new searchable directory of UK exporters which government will use to match their products and services with worldwide demand.
Published 6 March 2017