News story
UK Government concerned by reports of human rights abuses in Bahrain
The UK Government remains deeply concerned by reports of human rights abuses in Bahrain, particularly the arrest of political activists and medical staff.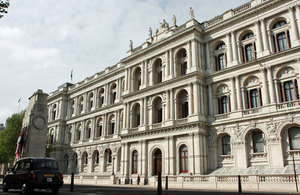 A Foreign Office spokesperson said:
"It is essential that medical personnel can treat their patients free from political interference. Those accused should have access to legal counsel and be tried before independent and impartial courts.
"We continue to urge the Government of Bahrain to meet all its human rights obligations and uphold political freedoms, equal access to justice and the rule of law. Those who have been detained should now have full access to the due process of law. The Government of Bahrain should also take swift, concrete steps to carry out the investigations into alleged abuses by Bahraini security forces to which it has already committed.
"The announcement by His Majesty King Hamad bin Isa Al Khalifa, that the State of National Safety in Bahrain will be removed on 1 June, is potentially a welcome step towards achieving longer term stability. We look forward to the practical actions that will support this move. The Bahrain Government's recent announcement on accelerating the investigation into deaths in detention and ensuring accountability for any wrongdoing is also welcome."
Published 13 May 2011