UK gives £19 million for Gazan refugees
UK Government to provide £19m to help support schools and health clinics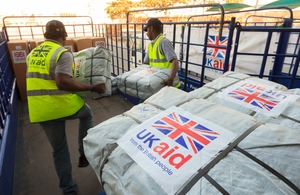 The UK Government is to provide £19m to help support schools and health clinics for Gazan refugees, International Development Secretary Andrew Mitchell announced today.
The aid will go to the UN Relief and Works Agency (UNRWA) and will provide health care, education and services to meet the basic needs of Palestinian refugees in Gaza and the surrounding region.
Around 70% of Gazans depend on UNRWA for basic services, while 75% depend on food handouts.
Andrew Mitchell said:
The humanitarian situation in Gaza is both unacceptable and unsustainable.
The UK is committed to helping those people affected by this crisis and that is why I am today providing £19 million to help meet their most basic needs.
There is an immediate need for unfettered access to Gaza if the humanitarian situation is to be improved, to allow the economy to get back on its feet, and to give the young people of Gaza the prospect of a better future.
I call on the Government of Israel to open the crossings to help end this humanitarian crisis.
Published 6 June 2010