World news story
UK further increases the number of Chevening Scholars from Pakistan
The Chevening Scholarship is fully-funded by the UK government and allows scholars to pursue Master's degrees in the UK in a course of study of their choice.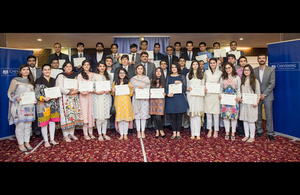 The UK Government has further increased the number of scholars being sent on the Chevening Scholarship, it was announced at a series of events held in Islamabad, Karachi and Lahore.
The three events were attended by departing scholars from across all of Pakistan members of the alumni and officials from the British High Commission.
Speaking at one of the pre-departure events in Islamabad, British Deputy High Commissioner, Mr. Patrick Moody, said:
I am pleased to announce that the number of Chevening scholars being sent from Pakistan to the UK has again increased. The number has risen from 73 candidates in 2015 to 81 scholars this year.

This is also the first time that we are sending a scholar from Balochistan on the Chevening/British Library Fellowship and a scholar from Khyber Pakhtunkhwa for The Chevening-Oxford Centre for Islamic Studies (OCIS) Fellowship.

The Chevening programme not only brings immediate benefits for individual scholars, in terms of future career prospects and development, but it also delivers long-term benefits for both Pakistan and the UK.
Applications for Chevening Scholarships 2017/2018 and some Chevening Fellowship awards are open till 8 November 2016. Prospective applicants from Pakistan are encouraged to visit the website for more information.
Contact
Press Attaché
British High Commission
Islamabad
Tel. 051 201 2000

NOTES FOR EDITORS
Chevening Scholarships are awarded to outstanding emerging leaders to pursue a one-year master's at any UK university. The scholarship programme provides a unique opportunity for future leaders, influencers, and decision-makers from all over the world to develop professionally and academically, network extensively, experience UK culture, and build lasting positive relationships with the UK.

A Chevening Scholarship offers financial support along with the opportunity to become part of the highly regarded and influential Chevening global network.

Applicants can choose any course of study at any UK higher education institution.

The Chevening/British Library Fellowship is collaboration between the UK Foreign and Commonwealth Office and the British Library, offering international experts a year-long professional research placement. Fellows will have the privilege of working with the extensive library's collections, and benefit from the broad range of professional expertise of library staff.

The Chevening-Oxford Centre for Islamic Studies (OCIS) Fellowship is collaboration between the UK Foreign and Commonwealth Office and OCIS, for mid-career professionals who are dedicated to the promotion of academic activities which encourage a more informed understanding of the culture and civilisation of Islam and contemporary Muslim societies. The Chevening-OCIS Fellowship Award offers financial support to individuals to undertake a period of independent study and research at the Oxford Centre for Islamic Studies.
Published 1 September 2016