World news story
UK further expands 3 to 5 day priority visa service in China
The 3 to 5 day priority visa application service will be further expanded in China.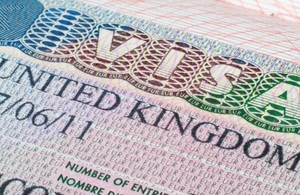 The UK has today ( 23 February) announced that the 3-5 day priority visa application service will be expanded to further applicants in China.
Priority service expanded to those with no previous travel and Transit applicants in China.
Those who choose this optional service will have their applications put at the front of the queue and we will aim to return a decision to the applicant within 5 working days.
The service is designed to offer maximum flexibility and convenience to customers and is offered in all 12 Visa Applications Centres (VACs) across the country.
The 3-5 day priority service is now available to all the following categories:
All ADS (Approved Destination Status) Visitors
All Business Visitors;
All Family Visitors and General Visitors;
Points Based System (PBS) Tier 2 employment applications - plus Tier 2 dependents applying at the same time;
(PBS) Tier 5 Sportspeople and Entertainers;
(PBS) Tier 4 Child and General Students – plus Tier 4 dependents.
All Transit Visitors
The expansion of the priority service to further customers is in response to customer feedback, and is another example of how the UK visa service allows maximum flexibility and convenience for Chinese nationals coming to the UK.
Published 23 February 2015