World news story
UK funds human rights training in Karamoja, Uganda
The civil society workshop was facilitated by the National Coalition of Human Rights Defenders in Uganda.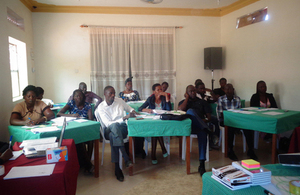 From 19-20 July, Briitish High Commission staff participated in one of seven UK-funded civil society training workshops on human rights delivered by the National Coalition on Human Rights Defenders (NCHRD). The workshop attended by High Commission staff took place in Moroto, and brought together participants from the entire Karamoja region of NE Uganda. Human rights defenders from 15 member organisations of the region's 'RIAMI RIAM' civil society coalition attended the workshop.
Participants completed group exercises at the end of each day to assess their understanding of human rights issues. NCHRD facilitators emphasised the need for human rights defenders to adopt an objective approach, stressing the importance of inclusion and the non-discriminatory application of rights. The workshop also included sessions on security, land rights, LGBTI rights, women's rights and engagement with the authorities on human rights issues.
A positive outcome of the workshop was that the group of trainees agreed to a system whereby NCHRD can refer cases to them in future.
Published 5 August 2016