World news story
UK Foreign Secretary welcomes Croatia's EU entry
In Croatia on 30 to 31 May, the UK Foreign Secretary William Hague met top state leaders to warmly welcome the country into the European Union on 1 July as partner and ally.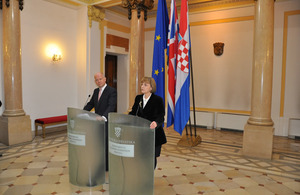 During his 30 to 31 May visit to Croatia, the UK Foreign Secretary William Hague praised the Croatian leaders and people for the achievements leading up to EU accession and congratulated Croatia on its imminent entry to the European Union.
The Foreign Secretary met his Croatian counterpart and Deputy Prime Minister Vesna Pusić, as well as President Ivo Josipović and Prime Minister Zoran Milanović.
The Foreign Secretary said his visit to Croatia and last week's visit of President Josipović to London ''show the continued strength of our friendship and partnership.'' He underlined the UK's readiness to further develop its relations with Croatia.
The Foreign Secretary said Croatia's accession to the EU was sending a strong message to other countries in the region - the process was tough but there were clear benefits at the end of it. It was also important, however, that reforms continued post-accession:
As a new EU partner, we look forward to working with Croatia bilaterally and in the EU in building a more competitive, adaptable and open European Union for the benefit of all its citizens.
Published 3 June 2013