World news story
UK Foreign Secretary visits Kenya
The Foreign Secretary met with President Kenyatta and other leaders to discuss the UK-Kenya partnership.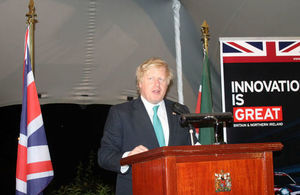 UK Foreign Secretary, Boris Johnson, was in Kenya on 17 March as part of a three- day tour of east Africa. During his visit, he met with Kenya's President Uhuru Kenyatta and Cabinet Secretary for Foreign Affairs, Amb Amina Mohamed and discussed matters of mutual interest between the two countries including regional security and the UK and Kenya partnership in trade, investment and tourism. During his meeting with President Kenyatta, Mr Johnson handed over one of the seven ambulances bought with the money recovered from the Smith and Ouzman corruption case.
Earlier in the day, the Foreign Secretary had an opportunity to visit the Northern Rangelands Trust in Laikipia, a UK supported programme working with communities to tackle the illegal wildlife trade. He later visited the British Training Army Unit in Nanyuki, where he saw UK and Kenyan troops training together and also had discussions with Kenyan forces who had returned from Somalia.
Mr Johnson later had a chance to engage with UK digital innovators at a technology showcase hosted by the British High Commissioner to Kenya, Nic Hailey. The event which brought together various UK digital companies, illustrated the role the UK is playing in transforming the lives of Kenyans through digital initiatives such as M-KOPA and MPESA, among others.
Speaking at the end of his visit the Foreign Secretary said:
It has been wonderful to see the progress and extraordinary success of Kenya. It's also great to see that the partnership between the UK and Kenya is robust and flourishing. I look forward to this vital and productive partnership continuing for many years to come.
The visit in pictures
Further Information:
The UK is committed to supporting Kenya – whether on jobs, growth, development, security or promoting integrity; and to working with you to harness the potential of new industries, infrastructure and technologies.
As one of Kenya's largest bilateral donors the UK is delivering over £230 million of aid a year to help the poorest Kenyans, improve health and education, tackle conflict and create jobs.