World news story
UK Foreign Office Releases Annual Human Rights Report 2015
The report indicates improvement in human rights situation in Sri Lanka, although some concerns remain.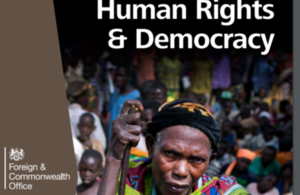 Sri Lanka continues to be named within the United Kingdom's Foreign and Commonwealth Office (FCO) Annual Human Rights Report. Sri Lanka is one of 30 'Human Rights Priority Countries' (HRPCs); countries where the UK has serious human rights concerns and hopes to engage positively to develop human rights performance. The report commends improvement in the human rights situation in Sri Lanka during 2015, while also noting that some concerns still remain. It recognises the positive steps taken by Sri Lanka during 2015 to improve freedom of expression (including in the media) and freedom of movement, reduce inter-community tensions, and restore the independence of institutions such as the Human Rights Commission. The Report also commends the government's willingness to engage with the international community and the co-sponsoring of a UN Human Rights Council (HRC) resolution in October committing to reconciliation, accountability and the protection of human rights.
While appreciating the government's willingness to address these issues, the report also notes that positive changes are less apparent in the north and east. Human rights defenders continued to report harassment and surveillance in 2015 and incidents of torture, and sexual and gender-based violence. UK Prime Minister David Cameron has pledged £6.6m over the next three years to continue support for reconciliation and human rights. Work with the government of Sri Lanka will aim to continue strengthening democracy and the rule of law, sharing UK experience and expertise.
At the launch of the report in London, UK Foreign Secretary, Phillip Hammond, said:
"The promotion of human rights is a core part of the everyday work of the Foreign Office and is the responsibility of British diplomats around the world."
The Report underlines the UK's desire to work positively with countries facing human rights challenges to help them improve their human rights performance.
The 30 HRPCs are: Afghanistan, Bahrain, Bangladesh, Burma, Burundi, Central African Republic, China, Colombia, Democratic People's Republic of Korea, Democratic Republic of Congo, Egypt, Eritrea, Iran, Iraq, Israel and the Occupied Palestinian Territories, Libya, Maldives, Pakistan, Russia, Saudi Arabia, Somalia, South Sudan, Sri Lanka, Sudan, Syria, Turkmenistan, Uzbekistan, Venezuela, Yemen, Zimbabwe.
See also
Sinhala translation of Sri Lanka chapter (PDF, 303KB, 1 page)
Tamil translation of Sri Lanka chapter (PDF, 128KB, 2 pages)
The FCO began publishing the Annual Human Rights Report in 1998 and it is now also published online along with twice-yearly updates on the 30 HRPCs.
Published 21 April 2016
Last updated 22 April 2016
+ show all updates
Sinhala translation has been added
First published.