World news story
UK Foreign Office Minister of State, Baroness Anelay, travels to Guatemala
Baroness Joyce Anelay, UK Minister of State for the Foreign and Commonwealth Office, travels to Guatemala next week for a series of high-level meetings with government officials, members of civil society, the business community and international organisations.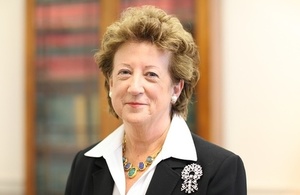 This is Baroness Anelay's first visit to the country, and the second by a British Minister since June 2014. During her visit, Baroness Anelay will express the United Kingdom's deep commitment to Guatemala in the fight against corruption, the promotion of human rights, and in developing stronger ties between our two economies.
Promoting the rights of women and girls at risk of violence, improving the country's business climate, and stressing the importance of open and transparent governance will also be high on her agenda.
During her visit Baroness Anelay will meet with Vice President Jafeth Cabrera, representatives of civil society and the private sector. She will also visit a UK-funded project in Guatemala City that aims to keep children away from gangs, encourage them to stay in school, and protect them from sexual abuse.
Baroness Anelay will emphasise the United Kingdom's commitment to remain an important global player and an outward looking country where free trade is at the top of the agenda. After her visit to Guatemala, Baroness Anelay will travel to El Salvador, Honduras and Mexico.
Speaking ahead of her visit, Baroness Anelay said:
I look forward to my visit to Guatemala next week. I hope that my time in the country will strengthen the UK-Guatemala relationship, based on our shared values, priorities and interests. Following the decision made by the British public to leave the EU our global commitment is unaltered, and Guatemala remains a key partner for the United Kingdom in Latin America.
Published 7 December 2016