World news story
UK Foreign Office Minister of State, Baroness Anelay, reiterates Britain's commitment to work with Honduras
UK Minister of State for the Foreign and Commonwealth Office, Baroness Joyce Anelay, met today with the Honduran Vice Minister of Foreign Affairs, Maria Del Carmen Nasser, and the Honduran Government Coordinator, Jorge Ramon Hernandez Alcerro, to advance several important topics on our bilateral agenda.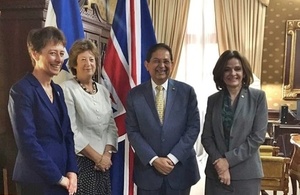 Baroness Anelay stressed that following the UK's decision to leave the European Union (EU), the UK remained as committed as ever to working with international partners, including Honduras, to create a safer, healthier and more prosperous world.
The United Kingdom is currently financing a number of projects in Honduras aimed at strengthening the investigative capabilities of the police force, encouraging private public partnership projects, tackling corruption, and strengthening human rights.
Baroness Anelay emphasised the need for the Honduran Government to work collaboratively with the Mission of Support Against Corruption and Impunity in Honduras (MACCIH) in response to the public's demands for more openness and transparency.
This is Baroness Anelay's first official visit to the country, and the first by a British Minister in 15 years. During her two day visit, the Minister will have a series of high-level meetings with government officials, members of civil society, the business community and international organisations.
Published 14 December 2016