World news story
UK Foreign Office Minister of State, Baroness Anelay, emphasises Britain's commitment to working with Guatemala
UK Minister of State for the Foreign and Commonwealth Office, Baroness Joyce Anelay today met the Guatemalan Minister of Foreign Affairs, Carlos Raúl Morales to advance several topics of importance on our bilateral agenda.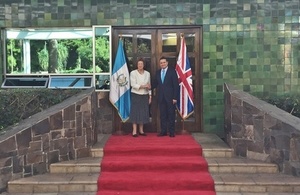 Baroness Anelay commented on the UK's decision to leave the European Union. She emphasised that Britain remains committed to working with our international partners including Guatemala, on peace and security, and strengthening the international rules-based system. This promotes prosperity and peace through economic integration, open markets, democratic participation and accountability, and the rule of law.
The United Kingdom is currently financing projects in Guatemala aimed at: increasing transparency; working with the authorities to tackle illicit trade and money laundering; strengthening the capabilities of forensic officials; and promoting the rights of children and women at risk of violence.
Baroness Anelay highlighted the UK's support for the efforts of Guatemala and Belize to resolve their territorial dispute. This year the UK has invested more than 100,000 Quetzals to improve the living conditions of Guatemalan communities near the Adjacency Zone by promoting sustainable agriculture, forest conservation and children's education.
The Minister also commended the Guatemalan Government for taking the necessary steps that will allow both countries to hold – jointly or separately – referenda on whether to take their territorial dispute to the International Court of Justice. The United Kingdom strongly supports this route as the best way of achieving an end to this long-running conflict, and welcomes the Guatemalan Government's commitment to this plan.
This is Baroness Anelay's first visit to the country, and the second by a British Minister since June 2014. During her visit to Guatemala, she will hold a series of high-level meetings with government officials, members of civil society, the business community and international organisations.
Published 12 December 2016