UK forces support Afghan operation in Lower Gereshk Valley
Afghan soldiers and police, supported by British troops, have completed an operation to clear insurgents from the Lower Gereshk Valley, in the north of Nahr-e Saraj district.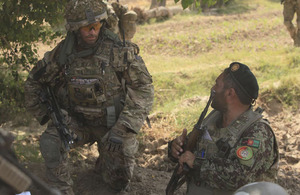 Operation BIG FISH was planned at a meeting of Afghan security officials including the District Governor and the Chief of Police, which was attended by the Commander of Task Force Helmand, Brigadier Doug Chalmers.
The security shura meets regularly to discuss the district's security priorities and the allocation of police and army resources.
Major Rupert King-Evans, Fire Support Company Commander, 1st Battalion Grenadier Guards, said:
The operation was to clear insurgents, IED components and IED-making facilities from the Lower Gereshk Valley.
The key point from this operation is that it was an Afghan operation supported by ISAF, and not the other way around. The Afghans planned the operation. We offered advice and, when they requested, we provided support for them.
The task fell to the Afghan National Army (ANA) 3/215 Brigade, led by Brigadier General Sherin Shah. At dawn on the day of the operation, more than 400 Afghan warriors from the brigade flew into the contested area. By conducting several 'dummy' landings at various locations, the insurgents were kept on the back foot, and the Afghan forces achieved the element of surprise.
The Afghan warriors, accompanied by their British advisors, patrolled up the valley, clearing the area of insurgents and searching compounds for weapons and ammunition.
Sergeant Major Nathan Love from a Kandak Advisory Training Team said:
The sheer mass of Afghan force on the ground was enough to deter the enemy and show the people that the Afghans are leading. The Taliban saw this and most of them decided not to fight, so the ANA were able to find 14 of their IEDs.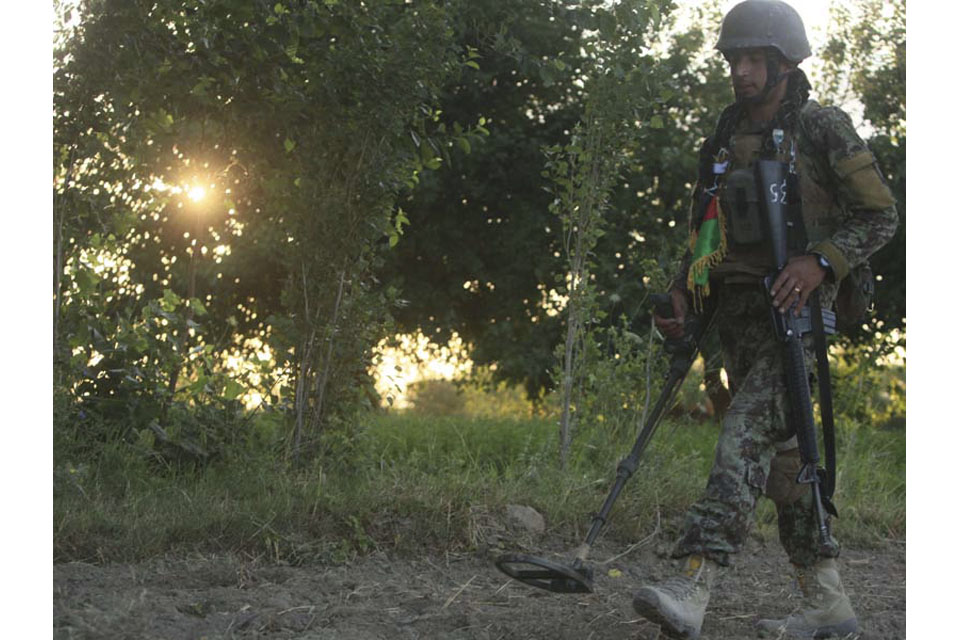 For the Afghan soldiers searching the area and keeping the local residents safe, it was a point of pride to be leading a major operation.
Jawid Afghanyar, an ANA officer with the 6th Kandak, 3/215 Brigade, said:
We have mine-defusing teams, infantry teams and many others bringing security and peace to the area. It has been a while since the Afghan National Security Forces have been in the area and the people now know that we will help make this area safe and secure, so the people here can continue their work in peace.
The British soldiers involved in mentoring the Afghan forces have seen them rise to a very high level of expertise.
Major King-Evans concluded:
It's seriously impressive how well the Afghan Army is operating. They are really swept up. Their low-level tactics, skills and drills are excellent, and they conducted the operation almost as if they were ISAF themselves.
They've shown the local population that the Government of Afghanistan and the Afghan National Army and Police are here to stay.
Published 6 August 2012