UK forces praised as new command stands up in South West Afghanistan
A new organisation has taken command of international forces in south western Afghanistan today, Monday 14 June 2010.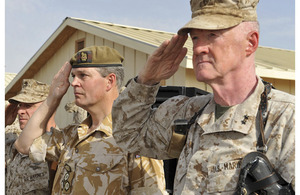 The changes, announced on 21 May, see Regional Command (South West), based in Helmand, overseeing Helmand and Nimruz provinces, while Regional Command (South) [RC(S)], headquartered in Kandahar, continues to control ISAF forces in Kandahar, Daykundi, Uruzgan and Zabul provinces.
With the majority of ISAF forces based in southern Afghanistan, the formation of the new headquarters permits commanders in the south to focus on geographically smaller areas, ensure greater partnering between the Afghan National Security Forces (ANSF) and ISAF, and deliver the levels of security required for governance and development to continue to spread in the region.
Major General Richard Mills of the United States Marine Corps is in charge of the new Command. He leads a combined force of some 27,000 personnel, with units drawn from eight nations:
It is a distinct privilege for all of us to stand up Regional Command (South West)," he said. "We are truly building on the outstanding work of all that have served here in Helmand and Nimruz provinces.
"The establishment of Regional Command (South West) is a natural military progression based on the number of troops serving here and the priority placed on Helmand and Nimruz provinces.
This is the first time that the US Marine Corps has led an ISAF Regional Command. The British officers serving in my coalition headquarters as well as Task Force Helmand have brought invaluable experience and knowledge to the command.
"We are partnered with ANSF at all levels and conducting joint operations throughout Helmand province.
Tough fighting remains," he added, "but I see evidence daily of progress that will bring about lasting stability across southern Afghanistan.
"This will be a significant year for the future of Afghanistan. Coalition forces, alongside our Afghan counterparts, will continue to support the Government of the Islamic Republic of Afghanistan as it delivers legitimate governance, improved security and lasting economic development."
Lieutenant General David Rodriguez, Commander of ISAF Joint Command, said:
The establishment of Regional Command (South West) significantly increases the ability of the Afghan National Security Forces to partner with the coalition.
Major General Mills praised the work of British forces in Helmand province:
I remain very much impressed by the momentum and achievements of RC(S) under General Carter," he said. "My predecessors in the 2nd Marine Expeditionary Brigade and the British troops of Task Force Helmand have distinguished themselves in the service of the Afghan people here. Because of their efforts, real and tangible progress is being made here every day.
Regional Command (South), led by Major General Nick Carter, will continue to direct ISAF operations in the provinces of Kandahar, Zabul, Uruzgan and Daykundi.
Some 30,000 troops continue to operate in RC(S). No troops have been realigned during the formation of the new command.
Published 14 June 2010