UK forces help Afghan community rebuild bridge
A UK military team has helped an Afghan community in Helmand to rebuild a bridge destroyed by Taliban insurgents when they were driven out of the area.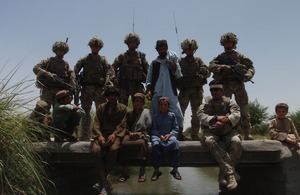 Village elders of Haji Said Mohammad approached their local council representatives for help to replace the bridge, as they now felt safe moving from their villages to the local market in Loy Mandeh.
The local budget would not allow for the bridge in this financial year, so the councillors asked if the Military Stabilisation Support Team would be able to assist. Royal Navy Petty Officer Tim McCullagh was given the task of project supervisor and quickly contacted the village elders to see what help they required.
Petty Officer McCullagh, attached to the Military Stabilisation Support Group, said:
While grateful for the offer of assistance, the village locals asked only for help in paying for the material. They felt that if they built the bridge it would send a clear message to the insurgents - they are not afraid anymore.
Afghans do not want just to be free of insurgent intimidation, but rather to be prosperous and self-sufficient, as a self-governed country with their head held high.
The bridge has decreased travel time significantly for the villagers, allowing them to reach the market quickly with fresh produce. It has also opened up the village shops and facilities to more isolated hamlets, so much so that the local shop owner has seen trade increase significantly since the bridge went in.
The bridge has also brought families closer together; before it was put in the only way to cross was to wade through the deep and fast-running river which made it impossible for children to cross, separating the extended families that are so important in the region.
Sergeant Mike Tait of 1st Battalion The Royal Anglian Regiment commands British troops in the location. He said:
It has been an immensely different tour from when I was here on HERRICK 10. During that tour I was in contacts on a daily basis. On this tour I haven't fired a single round, nor have my men.
The Military Stabilisation Support Team is helping local government construct the basic infrastructure that will allow the Afghan people to build their own future.
Local Abdul Hakim, a member of one of the nine families who has recently returned to the area, said:
Better security and building things like this bridge encourages us to move back to Kopak as it shows us the government want us to return. We like the bridge very much because local people built it, and we are very proud of that. It is a good bridge for us. Every day cars, motorbikes, tractors, people and even donkeys use it.
Published 28 June 2012