UK food and drink companies set for export success
'Food is GREAT' campaign and Food and Drink Action Plan launched by Environment Secretary Owen Paterson.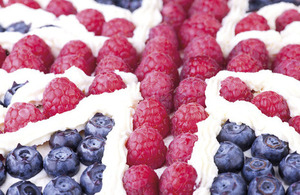 One thousand British food and drink firms will benefit from a new exports action plan which aims to deliver a £500m boost to the UK economy.
The Food and Drink International Action Plan will be delivered by UK Trade & Investment (UKTI) and the Department for Environment, Food and Rural Affairs (Defra), as part of the government's overall ambition to raise UK exports to £1 trillion and to get 100,000 more UK companies exporting.
Food and drink is the UK's largest manufacturing sector with a turnover of over £90 billion. The industry employs up to 400,000 workers. This represents 15 per cent of the overall manufacturing workforce in the UK.
However, there is huge untapped potential for export among small and medium sized businesses (SMEs) with 90 per cent currently not exporting and primarily only with close European neighbours.
The plan was launched by Environment Secretary Owen Paterson on Sunday evening at Anuga, in Cologne, Germany, the world's leading food and drink trade fair.
At the same time food was officially launched as one of the GREAT marketing campaign pillars. The GREAT campaign showcases the very best of what Britain has to offer in order to encourage the world to visit, study and do business with the UK.
Through the GREAT campaign UKTI will deliver a two year programme of activity showcasing the British food and drink industry to markets including Vietnam, Mexico, Brazil, Russia, South Korea, Hong Kong and Macao, China, USA and Europe.
Speaking from Anuga, Environment Secretary, Owen Paterson said:
Brand Britain is recognised and revered internationally. The Food and Drink Exports Action Plan and the launch of 'Food is GREAT' are important, as they will give quality British produce an even higher profile, boost our economy and create jobs.
There are huge opportunities for British food companies to export all over the world and I'm determined to help our firms exploit them.
UKTI will be taking a food and drink trade mission to Anuga where UK companies will meet a range of buyers and suppliers, and visit a number of local food and drink producers.
Chef and ambassador for the Food is GREAT campaign, Tom Aikens, has created a menu for the delegates to showcase the best of British produce and improve international perceptions of the UK's food offering.
Tom Aikens said:
People are becoming increasingly concerned with the origins of what they are consuming and exactly what they are eating.
One of life's luxuries is being able to discover the heritage of your food and being truly educated in what you are eating.
The Food is GREAT Campaign really celebrates the hard work and dedication of some of the best suppliers in the world.
At both Tom Aikens Restaurant and Tom's Kitchen we are committed to using the very best seasonal and locally sourced ingredients wherever possible. We work closely with British suppliers and farmers that are as passionate about growing as the chefs are about cooking.
Lord Green, Trade and Investment Minister said:
Demand for British food and drink products overseas is growing fast; a 15 per cent increase in overseas sales in the last two years is a clear sign of the opportunities available to the British food and drink manufacturers working in this sector.
This Action Plan reinforces the UK government's support for such a prosperous sector with an emphasis on how together with industry, we can support businesses in the global export markets.
Fiona Kendrick, Chairman and Chief Executive Officer of Nestlé UK and Ireland and Co-Chair of the Agri-food and drink Export Forum said:
I am very pleased to endorse this Action Plan as co-chair of the Agri-food Export Forum. There has never been a better time for the UK agri-food and drink companies to start exporting. High demand from overseas markets for British goods will play a vital role in our sector's ability to achieve the shared goal with government of 20 per cent sector growth by 2020.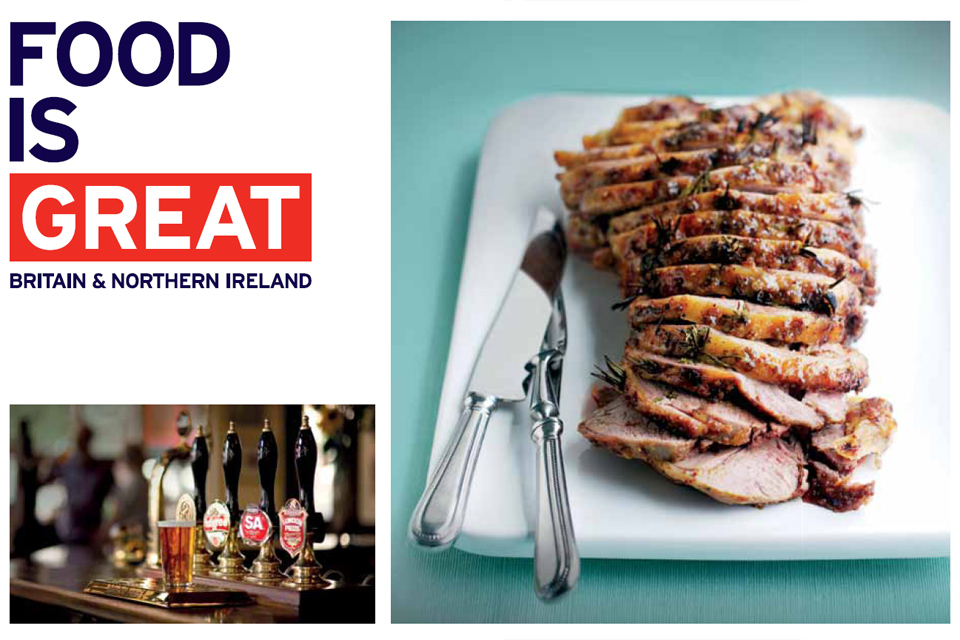 The Food and Drink International Action Plan support will include:
creation of one team across government and industry to drive forward action on exports and to steer priorities
a single strong UK brand identity to help increase the visibility of UK food and drink at the world's major food events and exhibitions
well-publicised and focussed campaigns on the largest opportunities for the UK sector matched to its strengths
more support and advice on exporting – with simple access points for UK firms – to speed the pace of international growth for UK firms
faster export certification process for animals and animal products
continued work to lift trade barriers, promote trade and maintain access to open markets already opened.
The plan also sets out specific support for the dairy industry; beer, cider, wine and spirits exports; meat and seafood industries and UK food brands.
The Food and Drink International Action Plan has been devised jointly between government and industry after six months of consultation.
In July 2013, the government published the Agricultural Technologies industrial strategy. The UK agri-tech sector has the capability and capacity to get ahead in the global race. We have research that is world leading in many agri-tech disciplines and we have global and trusted brands and world-class businesses in food and farming.
Notes to editors
Food and Drink companies wanting to find out more about exporting abroad should visit UKTI food and drink web pages or get in contact with UKTI
In the current economic climate exports can offer significant growth potential. In the last two years, export sales grew by 15 per cent, compared to total food and drink sales growth of only 3 per cent. FDF data shows that for businesses that do proactively expand into new markets, exports account for at least 20 per cent of turnover, compared to an average of only 5 per cent or less for those that exported reactively.
With the strength of the British brand riding high after the Olympics, there has never been a better time to export British food products. The UK's reputation in producing quality, innovative, safe products is known across the globe and as a consequence, UK food and drink exports have grown by 61% over the last five years.
Developed in partnership with industry, the Agricultural Technologies Strategy will ensure everyone from farmers and retailers, to cooks and shoppers share the benefits these exciting opportunities bring. It includes a £160 million government investment in developing cutting edge technologies, and taking innovative products such as cancer-fighting broccoli from the field to the shopping aisle.
Agri-technology presents the UK with greater exporting opportunities in emerging markets. Government aims to leverage the innovative nature of the UK sector to share knowledge and expertise to address global issues such as food security.
The GREAT Britain campaign is the government's most ambitious international marketing campaign ever and showcases the very best of what Britain has to offer in order to encourage the world to visit, study and do business with the UK.
UK Trade & Investment (UKTI) is the government department that helps UK-based companies succeed in the global economy. We also help overseas companies bring their high quality investment to the UK's economy – acknowledged as Europe's best place from which to succeed in global business. UKTI offers expertise and contacts through its extensive network of specialists in the UK, and in British embassies and other diplomatic offices around the world. We provide companies with the tools they require to be competitive on the world stage. For more information on UKTI, visit www.ukti.gov.uk or visit the UKTI online newsroom.
Published 6 October 2013