World news story
UK extends UN Gender Equality Convention to the Cayman Islands
The UK has extended the Convention on the Elimination of All Forms of Discrimination against Women (CEDAW) to the Cayman Islands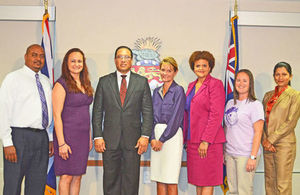 The Cayman Islands Government's request to have the Convention on the Elimination of All Forms of Discrimination against Women (CEDAW) extended to the Cayman Islands has been granted by the United Kingdom.
The decision, taken by the UK Government Equalities Office, follows the introduction of the Cayman Islands Gender Equality Law, which came into effect on 31st January 2012 and was a major step forward in the process of meeting the UK's requirements for CEDAW extension. The Gender Equality Law, 2011 prohibits discrimination in employment and related matters and also serves as local "enabling legislation" that upholds the principles of CEDAW.
"This is a pivotal and historic step in the advancement of women and gender equality in the Cayman Islands, and as Minister and a woman, I am delighted to receive this news, especially during Honouring Women Month when we honour women for their valuable contributions to society, the workplace and our country," said Hon. Tara Rivers, the Minister responsible for Gender Affairs. "To have CEDAW extended to the Cayman Islands has been an aspirational goal of the Government and we have now achieved it. The extension of this treaty validates the work that we have already been doing to ensure equality between women and men and promote a culture of human rights in the Cayman Islands through the enactment of the Gender Equality Law, 2011 and various other measures. CEDAW is a core international human rights treaty, and our desire to be a part of this treaty is a reflection of our mission to create a more positive and equitable future for our sons and daughters, and a healthier and more productive society."
The Cayman Islands will be granted the extension next week at the 60th Annual Committee on the Status of Women meeting at the United Nations in New York. Minister Rivers will be on hand when the UK delegation deposits the instrument which formally notifies the United Nations Secretary- General that the UK Government requests the extension of CEDAW.
Countries that have ratified CEDAW are legally obligated to work towards implementing its provisions and are also committed to monitoring and reporting on the measures they have taken to comply with their treaty obligations.
"Although we already have compliance with many of the obligations of CEDAW, the benefits of having CEDAW extended to the Cayman Islands are many, and include providing the Gender Affairs Unit with a useful framework for national action, easier access to technical resources, and also opportunities to build relationships and share best practices and policy recommendations with other countries," explained Tammy Ebanks, Senior Policy Officer (Gender Affairs). "CEDAW will also provide a catalyst to examine lingering areas of discrimination and develop strategies for solutions to address inequality between women and men and boys and girls."
Often described as an international Bill of Rights for women, CEDAW was adopted in 1979 by the UN General Assembly and has been ratified by almost every single member of the United Nations.
Published 10 March 2016