News story
UK Export Finance supports UK business opportunities in Dubai
UK Export Finance supports UK business opportunities in Dubai's Al Maktoum International Airport expansion project.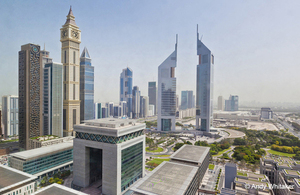 Plans are underway for the extension of Dubai's Al Maktoum International Airport which, once completed, will make it the biggest international airport in the world. The UK's export credit agency, UK Export Finance (UKEF) signalled its willingness to support UK companies bidding for contracts on the project by issuing a US$2 billion letter of interest to the project sponsor. The first phase of the Al Maktoum Airport expansion is expected to be valued at US$32 billion, with contracts expected to become available in 2015.
UKEF's letter of interest, although not a binding commitment, helps to ensure that UK exporters are given every opportunity to bid for contracts on the project. The project's five prime contractors (Carillion, Kier, Balfour Beatty, Laing O'Rourke, and Interserve) have now been engaged, each of whom is headquartered in the UK.
Equally, UK suppliers in sectors across the length and breadth of the supply chain have the opportunity to bid for the many related contracts. Successful companies may be able to access UKEF products and services either through the letter of interest or independently.
UKEF is working with UK Trade & Investment (UKTI), the Foreign and Commonwealth Office and the British Embassy Dubai to help UK businesses make the most of this opportunity. Companies should contact UKEF for information and support on finance solutions, and UKTI for expert international trade advice.
Ali Sherwani, Deputy Head of International Business Development for UKEF commented:
The US$2 billion letter of interest issued for Al Maktoum Airport is the largest ever issued by UKEF, for the biggest airport project in the world. The export finance expertise of UKEF and UKTI, combined with insight from the local British embassy is a great example of how UK government departments collaborate to achieve the best possible outcome for UK exporters. As this is such a high value opportunity, we are also encouraging UK prime contractors to consider forming their own alliances in order to bid for portion of this important project.
Notes for Editors
UK Export Finance is the UK's export credit agency. It supports long term economic growth and competitiveness by complementing the private market with insurance for exporters, loan guarantees to banks, and support for and provision of loans to overseas buyers of UK goods and services.

The extension of Dubai's flagship airport is due to be completed in eight years. It will have five runways and the capacity to handle 130 million passengers a year with the second phase pushing this up to 250 million. London's Heathrow airport, which is regarded as one of the busiest airports in the world, carried just under 72.5 million passengers in 2013.

UK exporters looking for information and support from UKEF should contact Ali Sherwani. For expert trade advice from UKTI regarding this opportunity, contact Rashid Khawaja, Senior Trade and Investment Advisor.
Media enquiries: Julia Beck, Media Relations Manager
Published 19 December 2014