News story
UK Export Finance: new powers to boost exports announced
Government productivity plan includes development of widened working capital support from UK Export Finance.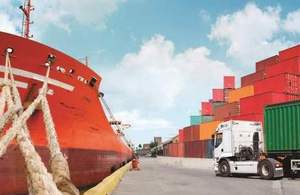 The government's productivity plan today included the news that UK Export Finance (UKEF) – the UK's export credit agency – is working with the banks to broaden the eligibility of its export working capital product so that it includes the direct supply chains of UK exporters.
This facility had previously been available for exporters' overseas contracts only, and was not available to the companies that supply the exporting company. Discussions are ongoing with the participating banks on the operational detail and banks will be invited to submit applications under the widened facility from the end of August for companies that supply UK exporters, companies which also play a vital part in the national export effort.
This move is made possible by legislation enacted in the last Parliament that widened the powers available to UKEF. The new powers represent the most significant amendment to the export credit agency's powers since 1991 and will help make sure UKEF's products and services remain comparable with other leading export credit agencies, helping keep UK exports competitive.
The updated statutory powers recognise the changes in the way trade is now conducted and the increasingly complex and challenging conditions of modern global trade finance. In addition to opening up support for working capital facilities to companies who supply exporters, it has enhanced UKEF's ability to meet the financing preferences of overseas buyers who might wish to use an integrated finance package from UKEF to support UK prime contractors, but also parallel contracts or UK subcontracts though non-UK contractors. The enhanced powers also make explicit UKEF's ability to support the export of "intangibles" such as intellectual property rights, software licences and broadcasting rights.
Review of SME export finance needs
The Productivity Plan also includes the news that the British Business Bank will work with UKEF to review the finance challenges facing SMEs who export or are looking to export, to ensure that government support best addresses their needs. Further enhancements to the government's offering for smaller businesses in the trade or export finance space will be informed by this review.
The productivity plan "Fixing the Foundations: Creating a more prosperous nation" was published today by the Chancellor and announced in a speech by Secretary of State for Business, Sajid Javid. It is a comprehensive plan that sets the agenda for the whole of government over the parliament to reverse the UK's long-term productivity problem and secure rising living standards and a better quality of life for our citizens.
Companies involved in exporting that encounter difficulties in accessing finance or credit insurance are encouraged to contact UKEF to discuss their situation.
Media enquiries: Julia Beck, Strategic Communications Manager
Published 10 July 2015