Press release
UK Export Finance appoints Gordon Welsh to lead Business Group
UK Export Finance (UKEF) has appointed Gordon Welsh as its new Head of Business Group, leading the department's underwriting, product development, and new business.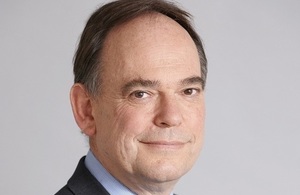 Gordon came from an extensive career in banking in the UK and USA to join UKEF, the UK's export credit agency (ECA), in 1998. He has undertaken a variety of roles with the department. Most recently, he led UKEF's aerospace business, overseeing huge innovation in its product suite with the world's first ECA-backed sukuk and support for a loan in offshore Renminbi, both award-winning deals.
Louis Taylor, UKEF's Chief Executive Officer, welcomed Gordon to the role, saying:
I am very pleased to announce Gordon's appointment. With his expertise and pioneering approach to export finance he will be able to energise the department to deliver even more comprehensive and innovative support for exports and exporters.
Gordon Welsh said:
I am delighted to have the opportunity to lead UKEF's underwriting, product and business development teams at an important time for the government's export strategy. By being agile and adaptable, and working ever more closely with exporters and banks, we can help UK exporters win contracts in a competitive global marketplace.
Notes for editors:
UK Export Finance is the UK's export credit agency. It exists to ensure that no viable UK export should fail for want of finance or insurance by complementing the private market with insurance for exporters, loan guarantees to banks, and support for and provision of loans to overseas buyers of UK goods and services.

Sectors in which UKEF has supported exports include: aerospace, construction, oil and gas, mining and metals, petrochemicals, telecommunications, and transport.

UKEF has a regional network of 24 export finance advisers supporting export businesses.

UKEF supports exporters with a range of products that include: * Bond insurance policy * Bond support scheme * Buyer & supplier credit financing facility * Direct lending facility * Export insurance policy * Export refinancing facility * Export working capital scheme * Letter of credit guarantee scheme

The latest information on UKEF's country cover positions can be found here on our website.
Media enquiries: Julia Beck, Strategic Communications Manager
Published 18 May 2016