Press release
UK Export Finance appoints Bhaskar Dasgupta as Chief Operating Officer
Bhaskar Dasgupta has joined UK Export Finance (UKEF), the UK's export credit agency (ECA), as its new Chief Operating Officer (COO).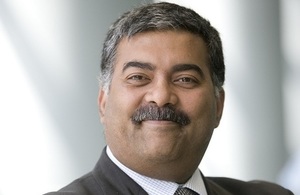 As UKEF's COO, Bhaskar will lead UKEF's operations and business management, technology, operational risk, directing digital transformation and change programmes. He will also be responsible for developing and delivering UKEF's future business plans and operational strategies.
Bhaskar joins UKEF from HSBC, where he held a number of positions, most recently the Global Head of the Transaction Management Group within the Risk Distribution Unit of HSBC's Global Trade and Receivables Finance Division (the world's largest Trade Finance Bank). Prior to this, he led a number of teams in HSBC's transaction banking and investment banking function – acting as a COO, delivering significant sales revenue and productivity uplifts, and other transformation objectives.
Bhaskar's career has spanned nearly 20 years in investment and transaction banking, consultancy and technology with companies including ABN Amro, Citigroup, SunGard and PriceWaterhouseCoopers. He holds PhDs in operational risk, financial economics and artificial intelligence as well as an MBA and a BSc in Mathematics.
In his spare time, Bhaskar is involved with numerous charitable causes in the UK and India. He speaks Hindi and Bengali fluently, and is studying for a PhD in Food History.
Louis Taylor, Chief Executive Officer of UKEF, welcomed Bhaskar to the department, saying:
I am delighted that Bhaskar has joined UKEF, bringing unmatched experience of business operations management and transformation. His leadership will energise the department to develop and deliver ambitious business plans, providing ever more accessible and comprehensive support for UK exporters.
Bhaskar Dasgupta added:
I am very pleased to be joining UKEF at a very important time for the government's international trade agenda. By ensuring our support is agile, digital, innovative and flexible we can help UK companies succeed in the global marketplace, supporting UK jobs and economic growth.
Notes to editors
UK Export Finance is the UK's export credit agency. It exists to ensure that no viable UK export should fail for want of finance or insurance from the private market. It provides finance and insurance to help exporters win, fulfil and ensure they get paid for export contracts.

Sectors in which UKEF has supported exports include: aerospace, construction, oil and gas, mining and metals, petrochemicals, telecommunications, and transport.

UKEF has a regional network of 24 export finance advisers supporting export businesses.

UKEF supports exporters with a range of products that include: * Bond insurance policy * Bond support scheme * Buyer & supplier credit financing facility * Direct lending facility * Export insurance policy * Export refinancing facility * Export working capital scheme * Letter of credit guarantee scheme
Media enquiries: Julia Beck, Strategic Communications Manager
Published 25 October 2016