World news story
UK export credit agency to explore business opportunities in Zambia
A senior representative from United Kingdom Export Finance (UKEF) will be visiting Zambia in December to explain the support it can offer.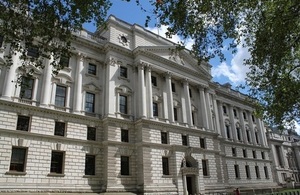 Mr. Sam Hoexter is the UKEF's head of business development for Sub-Saharan Africa, Latin America and India and will be in Zambia from 9 to 11 December 2015 to share information about UKEF and to consider how best it can support UK business and projects in Zambia.
UKEF is the United Kingdom's official export credit agency offering long term government-guaranteed finance for Zambian projects or buyers that are procuring from the UK. UKEF loans benefit from the UK government's AAA rating and translate into market competitive rates. It can also support UK business doing business in Zambia.
Acting British High Commissioner Lucy Joyce said:
I am delighted that United Kingdom Export Finance is visiting Zambia. The trip shows UKEF's desire to learn more about Zambia and the tremendous efforts made by the government and private sector to develop opportunities that continue to grow the economy. It also demonstrates increased interest among UK companies to do business with Zambia.

UKEF is already supporting trade and development in other countries in Africa and is keen to extend its products and services to Zambia. I am happy that the UK government continues to support Zambia on her path to economic development.
Governments and businesses importing goods and services from the UK stand to benefit from UKEF's product portfolio. As part of UKEF's £3 billion direct lending facility, special credit terms are given to (among others) renewable energy projects, water projects, rail infrastructure, with repayment terms up to 18 years. Public private partnerships are also considered.
Further information
UKEF is the United Kingdom's export credit agency offering long term government guaranteed finance.

UKEF already has a track record in sub-saharan Africa having financed construction of a €133 million terminal at Tanzania's Julius Nyerere International Airport, construction of a £193 million hospital project in Ghana as well as other projects in north Africa. It's direct lending product can be administered through banks with bases in Africa.
For more details, please contact:
Vichaya Chungu
Trade Advisor
UK Trade & Investment – Zambia
British High Commission
5210 Independence Avenue
Lusaka, Zambia
Tel: +260 211 423200
Email: Vichaya.Chungu@fco.gov.uk
Or the press and Public Affairs Section on telephone +260 211 423200
British High Commission, Lusaka 8 December 2015
Published 8 December 2015