World news story
UK excellence in agriculture showcased in Ukraine
British expertise in agriculture promoted at a leading B2B agricultural trade fair in Ukraine.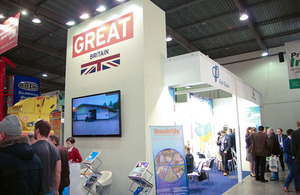 British Embassy Kyiv and UK Trade and Investment (UKTI) organised the UK national stand and the GREAT British Ukrainian Agribusiness Forum at V International exhibition 'Grain tech/ Agro Animal Show/Fruit. Vegetables. Logistics' from 11 to13 February 2015. This is a leading B2B agricultural trade fair in Ukraine.
The events brought together over 20 British agribusinesses and attracted a large number of Ukrainian and international visitors, from small farmers to big vertically integrated agricultural holdings.
This was the first time the British Embassy Kyiv has been involved in organising a UK stand at such a big event in Ukraine. Topics covered during the forum included effective farm management and energy efficiency in the agri-sector. These attracted a lot of interest from the participants and stimulated an active discussion between British and Ukrainian agribusiness community.
James Townshend, British Business Ambassador for Agriculture and Chief Executive Officer (CEO) of Velcourt Group plc, visited Ukraine during these days to discuss cooperation opportunities between the UK and Ukraine. He was also one of the keynote speakers of the event, presenting on innovative practices, technology and products. These address the challenges for sustainable intensification of agriculture and meet the needs of primary producers in Ukraine.
Partners
The success of the event was in large part due to the support of our partners: General sponsor: Baker Tilly Ukraine is an independent company forming part of the Baker Tilly International network which is a British Registered Company. Baker Tilly is one of the largest audit companies in Ukraine in addition to offering business consultancy services, independent valuation and accountancy services.
Stand sponsor: Right Frank Ltd is one of the leading producers of quality animal premixes and feed additives in the UK.
Informational support: British Ukrainian Chamber of Commerce (BUCC) and European Business Association (EBA).
Official airline: British Airways.
Internet partner: Latifundist internet portal
Media partner: Zerno magazine.
Further information
Contact the UKTI team in Ukraine for more information on the event and opportunities in the Ukrainian agri-sector.
Published 25 February 2015