UK Europe Minister's second visit to Poland
David Lidington MP, UK Minister of State for Europe, is in Warsaw on 14 and 15 October to discuss a wide range of EU issues.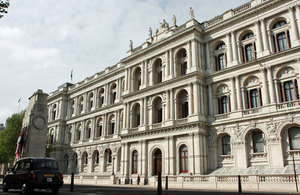 He will meet his Polish counterpart, Miko?aj Dowgielewicz, Poland's Finance Minister Jacek Rostowski, Deputy Foreign Minister Jacek Najder, Deputy Defence Minister Zbigniew W?osowicz, as well as a number of Polish MPs, MEPs, economists and commentators. Issues discussed include a wide range of EU topics: the Polish Presidency in 2011, the EU Budget and economic governance. The Minister will also visit the British Embassy in Warsaw where he will meet all staff.
It is Mr Lidington's second visit to Poland this year. On 24 May, on his first overseas visit since becoming Minister for Europe, Mr Lidington attended an informal meeting of Foreign Ministers from the Eastern Partnership in Sopot.
Published 14 October 2010