UK Europe Minister visits Warsaw
David Lidington MP, UK Minister of State for Europe, was in Warsaw on 14 and 15 October to discuss a wide range of EU issues.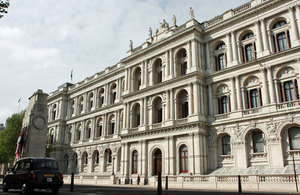 During his visit he met with the Polish Deputy Foreign Minister, Mikolaj Dowgielewicz, Finance Minister, Jan Vincent Rostowski, and former Prime Minister, Krzysztof Bielecki.
The Minister also met with Polish MPs and MEPs, business leaders, political commentators and gave an interview to a leading Polish daily, Gazeta Wyborcza.
Discussions focussed primarily on the EU political agenda, including the EU Budget Review, Eastern Partnership and the Polish Presidency in the second half of 2011.
The Minister also had the opportunity to speak to Embassy staff where he thanked them for their hard work, spoke of the importance of the bilateral relationship with Poland and discussed the coalition government's vision for future EU engagement.
Search the news archive
Published 15 October 2010