The rule of law must be implemented fairly, firmly and regardless of the position or affiliation individuals held.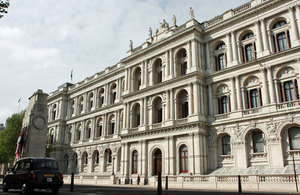 In his meetings with key Albanian leaders this morning, UK Minister for Europe, Mr David Lidington emphasised the two countries' united and firm support for Kosovo's integrity and independence, also for good cooperation in NATO, where the UK valued Albania's contribution in Afghanistan.
He emphasised to all that, for the international community, the local elections were an important test of Albania's commitment to EU membership. On the issue of miscast ballots, the Minister noted that it was not for the UK to judge. He suggested that while it was hard to challenge the principle that every vote should count, consistency in implementation of the rules is also important in a fair process. The UK looked forward to ODIHR's final report on the local elections.
In his meetings and in a statement to the media, the Minister stressed the importance of cooperation with partner institutions, like the Prosecutor General. It was important for Albania that the rule of law was implemented fairly, firmly and regardless of the position or affiliation individuals held; this was also necessary for EU progress. The Minister added that the UK remained a staunch supporter of Albania's EU ambitions. He said: "Any country which is in Europe and wants to join the EU should be able to do so as long as it meets the conditions for membership. The UK does not agree with those who say there should be a pause in enlargement after Croatia's entry to the EU." However, he expressed his grave concern about the impact of the political crisis on Albania's EU ambitions, and added that it risked being left behind as its neighbours moved forward. He said: "It is hard for Albania's friends to champion its cause in Brussels unless the Government and Opposition take responsibility and work together to move Albania forward. It is not for the UK to dictate how, but it needs mutual recognition of the roles of the Government and Opposition. Any Government should recognise the rightful and respected place of a vigorous Opposition, holding them to account for their performance. It is also important that the Opposition uses Parliament as the primary means of challenging the government."
Published 9 June 2011