UK Envoy for post-Holocaust issues launches "The Holocaust Explained" website
Sir Andrew Burns launched the ground-breaking multimedia website, which has been developed specifically for young people with no prior knowledge of the Holocaust.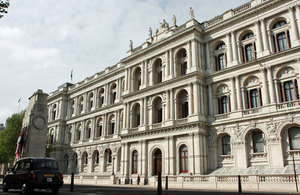 The launch event at the Foreign Office took place in the run-up to Holocaust Memorial Day on 27 January, and was attended by Secretary of State for Education Michael Gove.
The Holocaust Explained website has been developed by the London Jewish Cultural Centre (LJCC) as the UK's first Holocaust resource website for children. It includes testimony videos documenting the stories of survivors for posterity, historical background information, insight into the Jewish faith, a timeline of events and a teachers' support section. It has also been adopted by the National Schools Network, which is the UK collaborative network for education. Its aim is to provide schools with a safe, secure and reliable learning environment and direct access to a growing range of online services and content.
Sir Andrew said:
"I warmly welcome this imaginative initiative by the London Jewish Cultural Centre, which once more demonstrates the extent and breadth of Holocaust education in the UK. I hope that other countries will draw inspiration from this innovative website to reach out more effectively to young people learning about the Holocaust for the first time."
Sir Andrew also recorded a podcast on Holocaust issues. Listen to it or read the transcript here.
Alan Fell, Project Director of The Holocaust Explained, said:
"The Holocaust story is often not related to our younger generations in ways they can understand. In our research both teachers and students told us of the difficulties they have receiving and providing full, accessible information on what happened in Europe just decades ago. The Holocaust Explained is a first. It is approachable and easy to navigate, offering multimedia explanations to help young people understand the gravity of the Holocaust and why such events should never be allowed to happen again."
Foreign Office Minister for Middle East and North Africa Alistair Burt also attended the event. He said:
"The horror of the Holocaust must never be forgotten. In Israel last week I met inspiring survivors, who told me their stories. I deeply appreciate the hard work of the London Jewish Cultural Centre in producing the "Holocaust Explained" website. The website fills a gap in Holocaust education by providing a resource that is designed exclusively for children. It is vital for children to have resources such as this to help ensure that the terrible events of the Holocaust are never repeated."
Earlier this week, Prime Minister David Cameron signed the Book of Commitment for Holocaust Memorial Day. The Book of Commitment is signed by hundreds of MPs every year as a pledge to fight prejudice and hatred.
Published 25 January 2011