UK Environment Minister to attend COP10, Nagoya
Environment Secretary Caroline Spelman calls for countries to come together to protect biodiversity.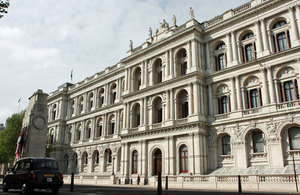 The Conference of the Parties to the Convention on Biological Diversity (CBD) is taking place from 18 to 29 October, in Nagoya, Japan, with the High Level Segment taking place from 27 to 29 October. The UK's Secretary of State for Environment, Food and Rural Affairs Caroline Spelman will lead the UK delegation. Before leaving for Japan, Minister Spelman recorded the following video message:
More commonly referred to as COP10, this year's meeting coincides with the celebration of the 2010 International Year of Biodiversity, as proclaimed by the United Nations General Assembly.
Key Priorities for the UK at COP10
To address the fact that the 2010 targets have not been met, and identify the reasons why.
To develop new ambitious and realistic biodiversity targets and reach agreement on the resources need to implement them.
To reach an agreement on access and benefit sharing (ABS) with respect to genetic resources.
To achieve greater integration of the economic value of biodiversity and ecosystems in decision-making. The global study on The Economics of Ecosystems and Biodiversity (TEEB) will be launched at Nagoya. It will provide guidance to decision-makers at all levels of government and the private sector.
To develop greater links between biodiversity, climate change and development.
To help raise awareness of COP10 and biodiversity the UK government has launched a special 'Nine Days to Nagoya' web page, which contains nine things that we can all do to help biodiversity, from feeding the birds in your garden to picking up litter.
Published 22 October 2010