World news story
UK entrepreneurship expert at a Croatian roundtable
Dinah Bennett, UK entrepreneurship expert, shared her advice with Croatian (would-be) women entrepreneurs.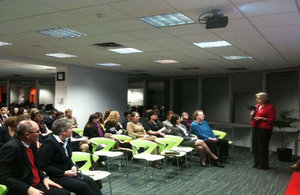 Dinah Bennett, an award-winning womens' entrepreneurship and enterprise development professional, spoke to a packed room of Croatian female entrepreneurs (and would-be entrepreneurs) at a roundtable co-organised by the British Embassy in Zagreb.
Dinah shared valuable advice on the four key 'ingredients' needed for setting up a business:
Motivation
Ability
A fantastic idea
Resources (not just money, but also support, mentoring and networking).
In her presentation on 'Women's Economic Empowerment through Entrepreneurship,' Dinah said that female entrepreneurship is 'economic imperative'. 'Every government in the world understands now that women's entrepreneurship is crucial for growth,' said Dinah, a director of the International Consultants for Entrepreneurship and Enterprise (ICE), UK.
Nicole Davison, the UK's Deputy Ambassador to Croatia, said that the UK Government in June reaffirmed its commitment to helping SMEs succeed by developing a strategy entitled 'Small business: GREAT Ambition'. Last year, 500,000 new business were created in the UK.
The roundtable at the VERN Business College was also supported by the Chevening Alumni Croatia, the Ministry of Entrepreneurship and Crafts and the website for entrepreneurs, MojBiz.com. The Assistant, Minister of Entrepreneurship, Zdenka Lončar, as well as Deputy Mayor of Zagreb, Sandra Svaljek, also participated in the panel. Several Croatian women entrepreneurs also spoke of the high (and low) moments of running their own business.
Published 27 January 2014