World news story
UK encourages voluntary return of illegal migrants
A pilot scheme encouraging illegal migrants to leave the UK voluntarily has been launched in London.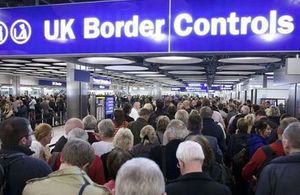 Vans displaying large adverts, as well as leaflets, posters and messages in local newspapers will be used to highlight the advantages of returning home voluntarily – while making clear enforcement action will be taken if they do not.
For this week, the two vans are driving around different parts of London, showing residents how many illegal migrants have recently been arrested in their area. They also publicise a hotline number that these migrants can call to arrange their return. Immigration Minister Mark Harper said:
'We are making it more difficult for people to live and work in the UK illegally. Every single day our enforcement officers are arresting, detaining and removing people with no right to be in the UK. 'But there is an alternative to being led away in handcuffs. Help and advice can be provided to those who co-operate and return to their homes voluntarily.'
Voluntary returns are the most cost-effective way of removing illegal immigrants and saving the taxpayer money. This pilot builds on the government's current work on voluntary returns, which saw 3,699 voluntary departures last year.
The areas of Hounslow, Barking and Dagenham, Ealing, Barnet, Brent and Redbridge were chosen because they have either significantly higher or below average numbers of voluntary returns.
Published 5 August 2013