World news story
UK encourages Guatemala to keep investigating journalists' attacks
The 3rd of May marks the 21st anniversary of World Press Freedom Day.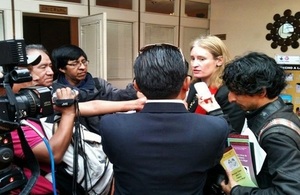 The day was established to celebrate freedom of the press and remind governments of their responsibility to uphold the right to Freedom of Expression enshrined in Article 19 of the UN Universal Declaration of Human Rights.
In July 2013, during a UN Security Council debate on the Safety of Journalists, the UK deplored the murder of journalists as an attack on democracy and free speech, and reaffirmed its commitment to the UN Plan of Action on the Safety of Journalists and the Issue of Impunity, encouraging all member states to work together with the UN to implement its provisions.
To mark this day, the British Ambassador to Guatemala, Sarah Dickson, said:
2013 has been a challenging year for the safety of journalists in Guatemala; according to reports twice as many violent attacks against journalists were registered compared to the previous year and four murders were reported. This was reflected in the 29 point drop in Reporters Without Borders Press Freedom Index.
We therefore pay tribute to the Guatemalan Government's efforts to improve the situation by creating a specialist journalist protection body and increasing efforts to investigate such violent attacks.
Published 2 May 2014