Press release
UK economy and environment at heart of government's vision for aviation
The aviation policy framework sets out the government's high level objectives for the sector.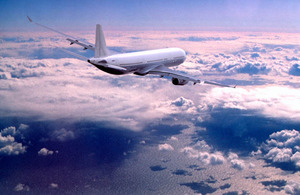 A long term strategy to enable the UK aviation sector to flourish and support economic growth, at the same time as addressing issues such as aircraft noise and carbon emissions, was unveiled by the government today.
The Aviation policy framework sets out the government's high level objectives for the sector and updates the 2003 air transport white paper. However, it does not aim to address capacity issues in the south east; this work is being carried out by the independent commission led by Sir Howard Davies. The aviation framework will provide a baseline for this work.
The UK's aviation sector contributes around £18 billion to the economy and has the third largest network in the world after USA and China.
Transport Secretary Patrick McLoughlin said:
The UK is already one of best connected countries in the world but if we want to maintain our premier league status we need an aviation sector that is equipped to face the challenges of the 21st century.

This document strikes the right balance between allowing the aviation industry to thrive while minimising impacts on the environment and local communities.
The framework aims to:
limit and, where possible, reduce the number of people in the UK significantly affected by aircraft noise through better technology, implementation of noise 'envelopes' around airports and further use of noise abatement operational procedures
ensure that the aviation sector makes a significant and cost effective contribution towards reducing global emissions, for example through working with ICAO towards a global deal on aviation CO2 emissions
encourage the aviation industry and local stakeholders to strengthen and streamline the way they work together
make better use of existing runway capacity through improving transport routes to airports, liberalising the UK aviation market to encourage foreign airlines to develop routes from our less congested airports and encouraging the operators of our busiest airports to consider how their scarce capacity might be utilised more effectively
Notes to editors
The aviation policy framework document is available at GOV.UK.
Press enquiries: 020 7944 3118
Out of hours: 020 7944 4292
Public enquiries: 0300 330 3000
Related documents
Published 22 March 2013