World news story
UK donates 500,000 Lempiras to MACCIH
The British Embassy in Guatemala and concurrent for Honduras will grant £19,000 to the Mission of Support Against Corruption and Impunity in Honduras (MACCIH, by its acronym in Spanish), to help the institution continue its work on transparency and strengthening the justice system in the country.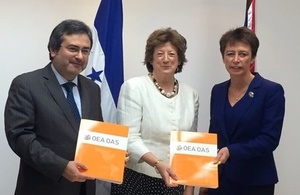 This is the first donation by the UK to MACCIH and the grant will be aimed at strengthening the protection mechanisms for justice operators in Honduras. In May 2015 Honduras adopted the Law of Protection of Human Rights Defenders, Journalists, Social Communicators, and Justice Functionaries.
By supporting the work of justice operators, including staff from the Judicial Power, the Public Prosecutor's Office and the General Attorney's Office, MACCIH will be able to diligently prosecute corruption cases in Honduras. MACCIH will work with local and international experts to put together an effective protection system for these officers.
The British Government commends the work of MACCIH and the Honduran Government for jointly putting forward legal and institutional reforms which contribute to improving government institutions and will address public concerns of corruption and impunity.
This announcement follows the visit in December 2016 by the Minister of State at the Foreign and Commonwealth Office, Baroness Anelay. During her visit, the Minister stressed the UK's full support for MACCIH and hoped the institution would soon start to deliver positive results with the aim of boosting transparency in Honduras.
To mark this donation, Carolyn Davidson, British Ambassador to Honduras, said:
The funds will allow MACCIH to develop its work towards fighting corruption, a task that has also been supported by other members of the international community. I'm also glad to announce that this grant will focus on strengthening the protection mechanisms for Justice Operators in Honduras.
Published 13 January 2017