UK "disappointed" at verdicts in Bahrain activists' cases
Minister for the Middle East Alistair Burt spoke after a Bahraini court today upheld the sentences of 13 political activists who were orginally tried by a military court last year.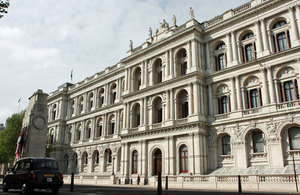 "I am very disappointed at the Bahraini civilian court's decision to uphold all the sentences of 13 political activists in Bahrain. While the UK welcomed Bahrain's decision to review these cases in a civilian court, as recommended by the Bahrain Independent Commission of Inquiry (BICI), we remain concerned about the strength of the convictions. Reports at the time these individuals were sentenced, which were acknowledged by the BICI, suggested that some had been abused in detention, denied access to legal counsel and were coerced into confessing.
"I urge the Bahraini Government to ensure the human rights and freedoms of its citizens are fully upheld at all times. We are aware that the defendants can now appeal to the Cassation Court. We expect this process to be conducted thoroughly and with urgency, whilst ensuring due legal process is followed. We will continue to monitor the appeal process very closely."
Published 4 September 2012