UK disappointed at Bahraini court ruling on medics cases
The UK is disappointed that the Bahrain Court of Cassation upheld all the convictions and sentences against nine medical personnel for their involvment in the 2011 unrest.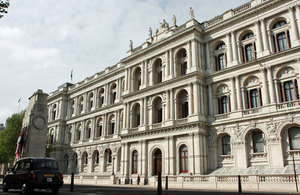 A Foreign Office spokesperson said:
"While we welcomed the move last December to drop all charges related to freedom of expression, we have concerns about the disproportionate length of some of the sentences imposed.
"Today's ruling comes after the tragic death of Ali Hussein al-Ni'ma at the weekend. We urge the authorities to conduct a prompt, independent and fair investigation into the circumstances of his death given contested accounts of events.
"The cycle of violence and incitement in Bahrain must come to an end to build the trust and confidence necessary for an inclusive, realistic and constructive political dialogue. This is vital for Bahrain's long-term stability. It is crucial that violence is unequivocally condemned by all sides, legal demonstrations are peaceful and that government security forces exercise proportionate use of force."
Published 3 October 2012