"UK determined to deepen relationship with Côte d'Ivoire"
Minister for Africa Henry Bellingham has welcomed the President and First Lady of la Côte d'Ivoire to London for the 2012 Olympics Games.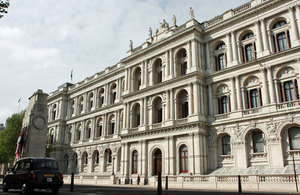 Mr Bellingham said he was delighted to welcome the President and First Lady and spoke of the relationship between the UK and Cote d'Ivoire.
"We will be greeting many countries in the next two weeks, but few relationships will have so much potential to develop as there is with Cote d'Ivoire.
"We are determined to deepen that bilateral relationship. That is why we formally re-opened the Embassy in Abidjan in May, why I took a trade delegation to Abidjan, why we have strengthened our commercial team at the Embassy, and why our world class ship HMS Dauntless visited.
"The UK is focused on meeting the target of doubling bilateral trade with Cote d'Ivoire in the next three years, and there is a huge appetite from UK business to help us achieve that goal. Cote d'Ivoire can be a gateway to West Africa for UK business, as well as a destination in its own right."
The Minister for Africa paid tribute to President Ouattara's leadership, in delivering key economic reforms and working to achieve national reconciliation after conflict last year.
He also praised the crucial role Cote d'Ivoire, and President Ouattara was playing personally in leading the Economic Community of West African States (ECOWAS) responses to the challenges in Guinea Bissau and Mali.
Published 27 July 2012