UK "determined" to deepen relations with Japan
Head of the Diplomatic Service Simon Fraser describes Japan as a "crucial partner" ahead of his visit to the country from 12 to 14 January.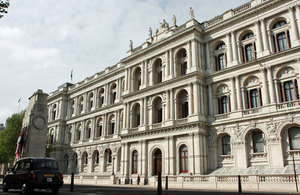 In his first visit to Japan since taking up his appointment in August 2010 he will have bilateral meetings with the Ministry of Foreign Affairs, and the Ministry of Economy, Trade and Industry. He will also meet key inward investors and UK businesses based in Japan.
Speaking ahead of his visit, Simon Fraser said:
"The UK is determined to deepen its relations with Japan. We share many values and work closely on the full range of international issues, including Afghanistan, Iran and nuclear non-proliferation.
"The trade and investment relationship between our countries is of course hugely important. The UK Government is 100% committed to creating an open welcoming environment for foreign investment, and Japan is a crucial partner in this. Japanese companies are vitally important to the UK's economy and economic recovery and we will welcome and support new investment alongside existing commitments. I'm very much looking forward to meeting representatives from the Japanese government as well as members of the business community to explore areas for furthering our relationship."
Published 10 January 2011