UK Deputy Prime Minister Nick Clegg visits Mexico
UK Deputy Prime Minister Nick Clegg will be in Mexico from 28 to 30 March.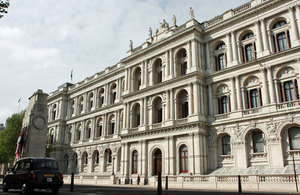 He will be most senior British government minister to visit Mexico on bilateral business for more than a decade.
The Deputy Prime Minister will be accompanied by Minister of State for Universities and Science David Willets, Foreign Office Minister Jeremy Browne and a high-level delegation of UK business leaders, representing a wide range of sectors including financial services, health care, energy, construction, consultancy and consumer goods. The delegation will be joined by top level UK university representatives from Aberdeen, Southampton, Sheffield and Strathclyde.
During his visit to Mexico, the Deputy Prime Minister will meet President Calderon, promote British business and educational links, and deliver a keynote foreign policy speech.
Speaking ahead of his visit, Deputy Prime Minister Nick Clegg said:
"I am delighted to visit Mexico. It marks the beginning of a major push in 2011 to renew the UK's ties to Latin America. This is a commitment from the whole of the UK Government, supported by UK business and education leaders. I will be travelling with top business representatives from the UK so we can explore how we can maximise our trade and investment relations.
There is no doubt that there is a huge amount of unrealised potential for further trade between our two nations. With our world-class expertise in green technology and financial services, the UK is a good fit for Mexico's future economic development.
Our two countries are natural partners on the global stage, cooperating closely on climate change, the G20 and in the UN. I am looking forward to discussing the full range of international issues, including developments in the Middle East, during my trip."
Published 28 March 2011