World news story
UK-Denmark Connected Health Forum launch
Business leaders, scientists and academics discussed telehealth and telecare at inaugural meeting of the UK-Denmark Connected Health Forum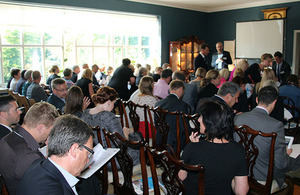 This was an innovative event that brought key players together and resulted in establishing business partnerships and best practise exchange within an ever growing business sector.
"The potential impact on the healthcare system of telehealth and telemedicine is tremendous and presents some rewarding opportunities for both UK and Danish healthcare industry. New innovations within technology are driving the evolution of a new healthcare model, with more focus on patient empowerment and a streamlined approach to delivering care. Substantive savings, improved patient experience and enhanced care are just around the corner" said Simon Nicklin, Director, UK Trade & Investment in Denmark.
Denmark, England and Scotland are the three leading European markets integrating telehealth solutions, according to the EU Commission SIMPHS Report 2012. The Embassy event thus represented the perfect stage for showcasing UK-Danish partnering between technologists, clinical opinion leaders, policy-makers and healthcare strategists from these leading nations.
Through collaboration our participants are able to share knowledge, explore partnership opportunities and roadmap activities for how to achieve deployment of connected health at scale.
UK Trade & Investment Denmark would also like to thank key partners for the Embassy in the UK-Denmark Connected Health Forum; NHS England, NHS24, Scottish Development International, RSI, Medcom and Continua Health Alliance.
Published 11 September 2013