World news story
UK delivers: Wadi Khaled's farmers can now invest in their land
From:

Part of:

Published:

31 March 2015
This was published under the 2010 to 2015 Conservative and Liberal Democrat coalition government
Chargé d'affaires Abda Sharif visited Wadi Khaled, met with the mayors and saw in action a UK DFID funded irrigation canal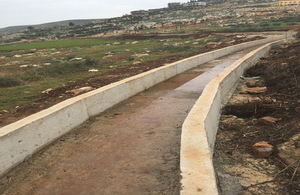 The UK has helped over 150 families in Majdal village in Wadi Khaled. Local agriculture has now increased and production has diversified, thanks to yet another UK project funded by the Department for International Development (DFID). Farmers can now stay in their village and invest in their land, part of the Lebanese Host Communities Support Project, a partnership between the Ministry of Social Affairs and UNDP.
Majdal village has a 350,000sqm agricultural land that was severeley affected by the scarcity of irrigation water due to primitive irrigation canals and improper management of water resources. Landowners have a strong preference for remaining in the village, but the bad irrigation infrastructure has forced more than 150 farmers to abandon their land.
During her visit to Wadi Khaled, British Chargé d'affaires Abda Sharif accompanied by representatives from UNDP inspected the newly built irrigation canal that will improve farmers' capacities to increase their production with less cost and better quality.
Speaking at the site, Chargé d'affaires Sharif said: 'We met with the mayors and the farmers a year ago and listened to their problems. We are happy to be back today to see one of several projects they have requested delivered. We look forward to our continued cooperation with MoSA, UNDP and the people of Wadi Khaled.'
Mr. Alain Chatry, North Lebanon Area Manager said: "Setting the priority and the implementation of such projects, with Wadi Khaled's municipalities, that are relatively newly established, aim not only to execute development projects in the area; but also to build the capacities of the municipalities and local stakeholders, to improve their potentials, to assist them in better serving their communities, as well as, to build trust between local authorities and the citizens to create incentives for stability."
With actions and not just words, the UK's Department for International Development (DFID) supported 48 projects for the total of $8.3 million, part of the Ministry of Social Affairs (MoSA) - UNDP Lebanese Host Communities Support Project. Last week Ambassador Tom Fletcher announced a $13.5 million of new funding expanding from 20 municipalities to over 40 throughout Lebanon. The UK response to Lebanon's humanitarian crisis has reached $300 million and has helped hundreds of thousands of Lebanese and Syrian refugees through international NGOs operating throughout the country.
Notes to editors
LHSP – funded by the Department for International Development (DFID) and other donors- will improve services at a local government level, directly benefitting local communities. It will deliver improved municipal and basic services in the most affected municipalities (e.g.: medical equipment and supplies for schools and healthcare centres, water and waste management rehabilitation and maintenance of public wells and more).