World news story
UK delivers further support for Kenya as part of humanitarian response to South Sudan crisis
This was published under the 2010 to 2015 Conservative and Liberal Democrat coalition government
UK delivers further support for Kenya as part of humanitarian response to refugees that have fled the ongoing fighting in South Sudan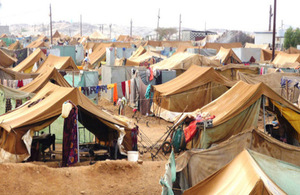 The UK will provide emergency food, shelter and sanitation to half a million refugees that have fled the ongoing fighting in South Sudan.
With almost a quarter of refugees reaching camps in Kenya, Ethiopia and Uganda suffering from acute malnutrition, the new £16.4 million package will provide:
£3.2 million (about Ksh. 450 million) to the World Food Programme (WFP) to help fill a gap in its food supply in Kenya, without which it would be forced to reduce the size of the rations it provides to refugees.
£5.8 million to WFP for 360,000 refugees in Uganda including food for all children younger than two years and targeted supplementary feeding for children under five.
£7.4 million to the UNHCR and WFP to assist 200,000 refugees in Ethiopia where recent flooding has destroyed camps. As well as food, shelter and sanitation, solar powered lamps will be distributed to help reduce the risk of violence against women and girls, by allowing them to move safely at night.
The UK recognizes the critical role played by Kenya and other countries in welcoming refugees from South Sudan. In Kenya, the new funding brings the UK's total support to the South Sudan crisis response in the Kakuma refugee camp in Turkana in 2014 to over £9 million (about Ksh. 1.3 billion). The funding is delivering food, shelter, toilets, safe water, immunisation and essential supplies such as mosquito nets, kitchen sets and fuel.
International Development Minister, Desmond Swayne said:
Millions of people have fled intolerable violence in South Sudan only to face uncertainty and further hardship where they seek refuge.
This additional funding from the UK will help ensure these families have their basic needs met. Ultimately, though, only a political solution to the conflict will allow them the peace and security they deserve.
This new money brings the UK's total support for refugees that have fled South Sudan to over £58 million since December 2013, as well as more than £130 million for the 1.4 million people who have been displaced from their homes but remain in the country.
Document information
Published: 1 January 2015