UK defence and security companies strengthen ties with Kenya
A delegation of UK defence and security companies visited Nairobi on 28 and 29 January for the first UKTI DSO Trade Mission to Kenya.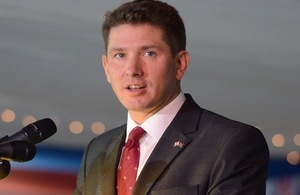 UK Trade and Investment Defence and Security Organisation (UKTI DSO) led the first defence and security mission to Nairobi, Kenya. The mission consisted of 17 UK companies with a wide range of expertise, including:
in border security
secure communications
airport security
armoured personnel vehicles
aircraft service provision
earth observation satellites
forensics and conservation technologies
The mission was arranged to help assist the Kenyan government with their defence and security requirements.
The UK is a world leader in the global defence and security market. It is the second largest exporter of new defence products and services. It has a market share of around 22% (£9.8 billion) – and the sixth largest exporter of new security products and services.
Speaking during the event, British High Commissioner to Kenya, Dr. Christian Turner, said:
The scale of UK presence at this mission is an indication of the UK's commitment to Kenya.

These are challenging times for the Kenyan security sector. The threats, and the drivers underpinning them, are multidimensional and of a global reach. The UK recognises the unique security challenges faced by Kenya, and has both the experience and expertise to share.

The UK is keen to deepen its existing security engagement with Kenya to further strengthen our prospering relationship. A more prosperous and secure Kenya means a more secure UK. Increased trade and co-operation in the security sector will help deliver our shared goal of a more prosperous and secure Kenya.
Published 28 January 2015