Press release
UK dairy forum to help boost exports
The UK dairy industry will be finding out how to make the most of global demand at a major food and drink conference in London.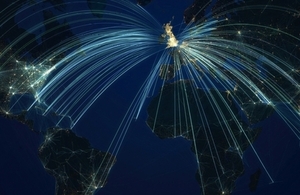 Representatives from the UK dairy industry will be finding out how to make the most of global demand for dairy products during a major food and drink conference at the Excel Centre in London.
The UK Dairy Export Forum, which has been organised by the UKTI and DEFRA, will take place at the International Food and Drink (IFE) event, which runs from 17-20 March. It will offer new tactics to current exporters as well as giving would be exporters the confidence, backing and practical help needed to start taking British dairy to overseas markets.
The Government aims to double UK exports to £1 trillion a year by 2020 and get 100,000 more UK companies exporting by 2020. Exports of dairy products contribute £1.2bn to the UK economy every year. They also help towards £18bn worth of food and drink exports per year.
The forum takes place on 19 March and will feature speakers from the dairy industry and Government who will cover the strategic importance of exports and outline what services are available. Delegates will also be given the chance to debate key topics and take part in one-to-one and network meetings.
Lord Green, Trade and Investment Minister said:
Food and drink is the biggest manufacturing sector in the UK and it is also a major export success story.
With global dairy demand increasing and an increasingly efficient UK dairy sector, this is a good time for UK dairy firms large or small to step up their export drive.
Note to editors
1.The forum takes place on 19 March from 10.30am – 12.30pm at Stand N1836, IFE 2013, ExCeL London.
2.This Forum marks the first step in the creation of the UK's first Dairy Exports Strategy, targeting specific overseas markets and specific dairy product areas.
3.The UK Dairy Export Forum is part of the GREAT campaign. This campaign invites the world to take a fresh look at everything Britain has to offer. It centres on areas of British excellence focusing on reasons to invest in and visit the UK.
4.The government's economic policy objective is to achieve 'strong, sustainable and balanced growth that is more evenly shared across the country and between industries'. It set four ambitions in the 'Plan for Growth' (PDF 1.7MB), published at Budget 2011:
to create the most competitive tax system in the G20
to make the UK the best place in Europe to start, finance and grow a business
to encourage investment and exports as a route to a more balanced economy
to create a more educated workforce that is the most flexible in Europe.
Work is underway across government to achieve these ambitions, including progress on more than 250 measures as part of the Growth Review. Developing an Industrial Strategy gives new impetus to this work by providing businesses, investors and the public with more clarity about the long-term direction in which the government wants the economy to travel.
5.UK Trade & Investment (UKTI) is the government department that helps UK-based companies succeed in the global economy. We also help overseas companies bring their high quality investment to the UK's economy – acknowledged as Europe's best place from which to succeed in global business. UKTI offers expertise and contacts through its extensive network of specialists in the UK, and in British embassies and other diplomatic offices around the world. We provide companies with the tools they require to be competitive on the world stage. For more information on UKTI, visit www.ukti.gov.uk or visit the online newsroom at www.ukti.gov.uk/media.
Published 18 March 2013