World news story
UK contribution to Red Cross Emergency Appeal for Cuba
The United Kingdom contributes with approximately £1.2m to the International Federation of the Red Cross (IFRC) following Hurricane Irma.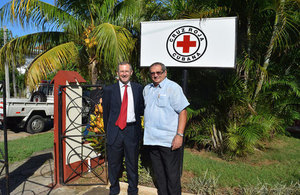 This donation will help the IFRC support the Cuban Red Cross (CRC) to deliver assistance and support to Cubans – specifically access to clean water, sanitation, shelter and hygiene promotion.
The British Ambassador to Cuba, Dr Antony Stokes said:
Hurricane Irma had a destructive impact across almost all of Cuba, with tragic loss of life, and widespread damage to homes, schools, businesses, and supplies of food, water and electricity. As the Cuban authorities work to restore services and repair the damage, it is important the international community plays its part. The UK is contributing with approximately £1.2million to the Red Cross's emergency appeal for Cuba – representing around 20% of their initial appeal target of 7 million Swiss Francs. That money will help the Cuban Red Cross to deliver assistance to some of those Cubans most in need. In addition, as a major financial contributor to the UN and the EU, the UK Government remains in close contact with both of those organisations on their own hurricane recovery efforts in Cuba.
Further information
Published 5 October 2017