World news story
UK Consular Team Rallies Round
UK assistance given to 3 Commonwealth citizens after a car accident in Ashgabat.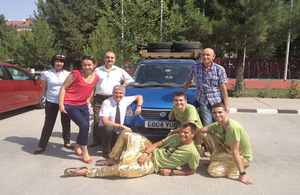 On the evening of 13 August the British Embassy Consular team received a phone call reporting a car accident in which 3 Commonwealth citizens, from New Zealand and Canada, were involved. They were participating in the annual London-Mongolia rally and had crossed into Turkmenistan from Iran on that day.
As the UK represents the interests of these nationalities in Ashgabat, we sent an officer to the scene of the accident to help with interpretation and deal with the police. It was a relief to find out that nobody was hurt, but the car was damaged and we immediately realised this would be a problem: cars cannot be abandoned in Turkmenistan and spare parts for vintage models would have to be imported from the UK. In addition, the young visitors had visas which would expire before these could be delivered, so we had to help arrange visa extensions.
Getting the rally drivers back on the road required a real team effort on the part of the Embassy: our drivers, Consular Services team and consular staff were all involved in facilitating the repairs; obtaining spare parts; sending diplomatic notes; and organising the visa extension and journey rerouting. Happily, we managed to get the car back on the road, and the car is now on its journey to Uzbekistan and beyond with its ever happy driver Lee and two passengers William and Henry.
Published 2 September 2013